A claim came on January 1, 2021, a new law took effect in Pakistan requiring men to have two marriages. People have viewed it more than 5 million times on TikTok. The claim is likely satirical.
Similar claims have circulated in satirical posts in previous years and no such law was enacted in January 2021. The video was published on TikTok on November 5, 2020.
The superimposed Urdu text on the video translates to English as: "Lawyers of Pakistan, Marriage Bill passed. Two marriages declared mandatory, permission from the first wife is not necessary. Will take effect from 1st January, 2021. Notifications follow."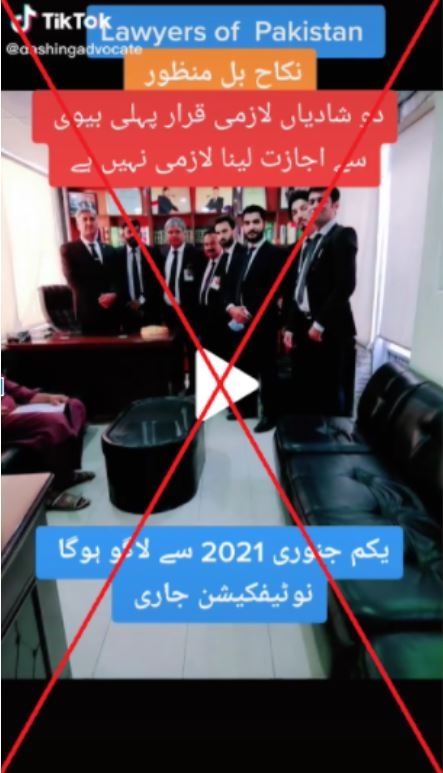 Some TikTok users appeared to believe the claim, said AFP. They posted comments in Urdu-language that translate as "Lies, they said this before too and then nothing" and "Keep your laws to yourself, whatever the Shariah says is better for us. Forget 2, do 4 but fulfill their rights if you have the guts."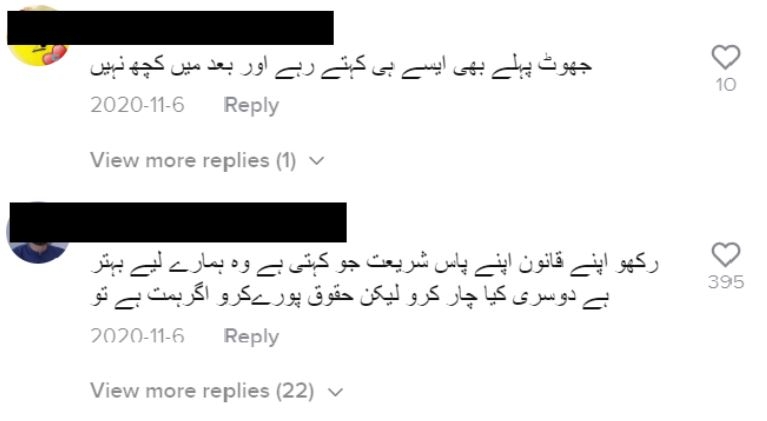 The video was also posted on Facebook alongside a similar claim. The video's claim, however, is likely satire.
Other TikTok users found the news humorous, with one commenter saying in an English literation of Urdu: "shut your face".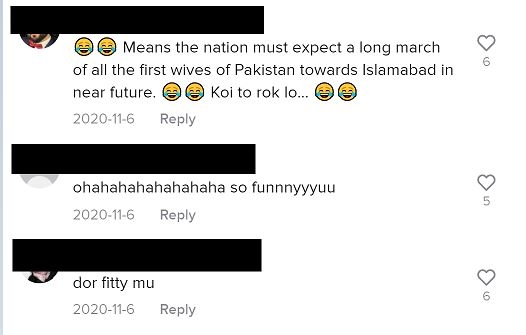 Is this a joke?
Moreover, no such law has been enacted in January 2021, as seen on the National Assembly of Pakistan's official website.
In Pakistan, it is legal for men to marry up to four wives. The Supreme Court, however, issued a rule in August 2020. It said husbands must seek the approval of the first wife before marrying a second time.
A similar claim was published on Facebook in 2018. The post shows an image of a newspaper with an Urdu headline. It reads: "Nikkah Bill every male ordered to have 2 marriages, denial will result in jail."
The last line of the news story is not entirely legible. However, it identifies this law coming into effect in the district of Malakand in Khyber-Pakhtunkhwa (K-P) due to "a shortage of males".
The superimposed Urdu text at the top of the image translates as: "Hope I don't cry from happiness".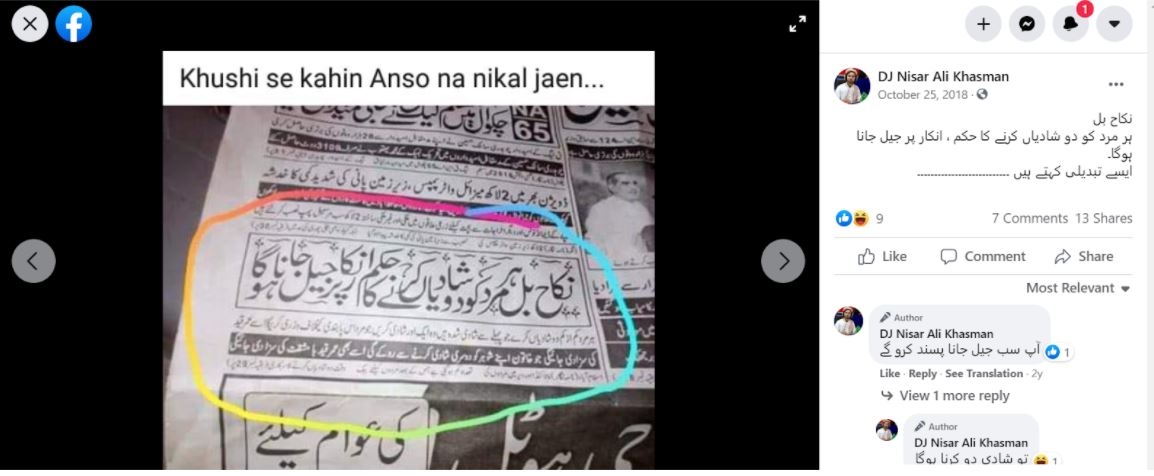 The Urdu caption of the post reiterates the headline of the newspaper. It had an added line that reads: "Now that's what I call change."
However, no such law has been enacted anywhere in Pakistan as of January 12, 2021, according to the bills passed by the National Assembly of Pakistan.
Furthermore, according to the website of the Punjab government in Pakistan, there is an existing Muslim Family Laws Ordinance 1961.
Watch the video here
It states: "No man, during the subsistence of an existing marriage, shall, except with the previous permission in writing of the Arbitration Council, contract another marriage, nor shall any such marriage contracted without such permission be registered under this Ordinance."
The UK broadcaster BBC also published a report in 2016 that detailed similar hoax claims about mandatory two marriage laws in Iraq and multiple African countries on account of an alleged shortage in the male populations.
Also Read: Karachi Groom Beaten By In-Laws For Trying To Marry Secretly!
Story Credits: AFP
What do you think of this story? Let us know in the comments section below.