Hareem Shah is one of the most controversial social media figures who decided to come forward and defend her newly wedded husband. Hareem Shah is one of the most popular Tiktokers and famous among politicians as well.
Because in her various videos she has showcased her connections with the different political parties. But with her recent actions, he dived into the land of fire where FIA grabbed her with the legal notice.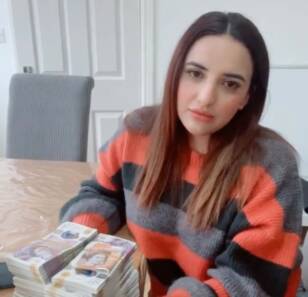 Hareem Shah landed in the UK and showed off her heavy amount of money in front of the camera which grabbed everyone's attention. Especially Federal Investigation Agency (FIA) who took action against Tiktoker Hareem Shah on money laundering. '
Soon the video went viral, later she claimed that the video she made was just for fun and nothing else.
But unfortunately, nothing, even though FIA asked Britain's National Crime Agency (NCA) to take strict action but nothing happened.
Hareem Shah defends her husband and asks FIA to leave him alone
Hareem Shah claimed that NCA didn't take any kind of action against her, because as per her there wasn't any kind of money laundering involved.
Murtaza Ali Shah shared a video on his Twitter account where Hareem shah harshly blamed FIA "used every tactic in the book to deport me from London and seize my bank accounts."
Even after the money show-off scenario, the provider of such a big amount to Hareem Shah came forward and clarifies money laundering.
After that, they came after my innocent husband. She said, "They [FIA] couldn't do anything to me. Did I get deported? No. Did NCA call me in? No.
I faced no problem here. Nobody stopped me, nobody investigated me." Shah claims that FIA is thus, "taking revenge by leveling false allegations" against her husband, Bilal Shah. According to the TikToker, Shah has been accused of extortion and drug trafficking despite there being "no FIR against him."
Hareem Shah who recently in an interview appeared with her husband and spilled some juicy details on how they met each other.
With her full confidence, she added "I brought with me a lot of love, money, and respect. But when they couldn't do anything to me, they started targeting Bilal. Because they can't do anything about me right? Their notice is worth nothing here."
She concluded by saying that her whole trust lies in the Pakistani Army that's it and doesn't care about any other agency. "I'm not scared of them and I don't consider them to be anything. I only trust and love the Pakistan army. And I will only request them to protect me from these people."
What do you think of the story? Tell us in the comments section below.