Pakistani film and television actress, model, and singer Hania Amir has been the nation's most loved celebrity for quite some time. However, the Janaan actress recently became a talk of the town after a video of her went viral in which people thought she looked different and may have undergone cosmetic surgery.
Amir is one of those Pakistani actresses who has won remarkable achievements in a very short time span. The bubbly Amir is famous for savage replies to her trolls. She surely knows how to reply to them.
Earlier, the actress uploaded a video on her Instagram account after she woke up in the morning. The dimpled actress captioned the video as, filter hai. Subha Bakhair, which means, "It is a filter, good morning".
To avoid the criticism, Amir even clarified that it is the filter that is enhancing her lips, but netizens could not stop themselves from bashing the Dilruba actress.
Social media users pointed out Amir's lips and passed negative remarks in the comments section. However, the actress did not respond to any of the backlash.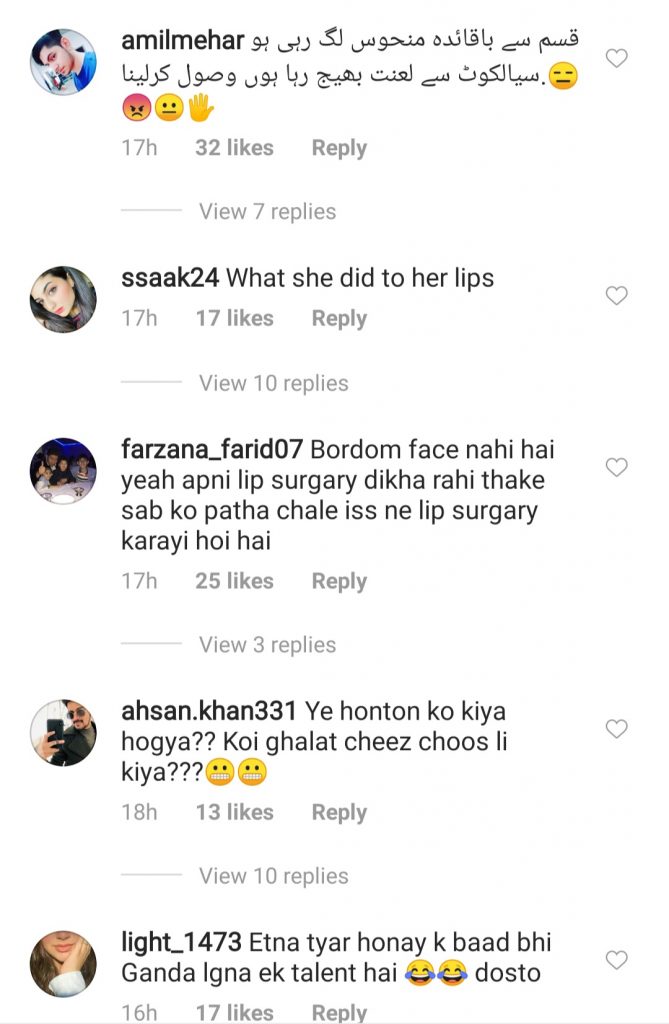 Well, such nasty comments atr not new for celebrities. But Amir sure knows how to deal with her haters like a pro. And she did it once again!
Hania Amir finds out she was using a filter wrongly!
Amir has been the talk of the talk for a while now. Especially, after allegedly breaking up with singer turned actor Asim Azhar. She was heavily trolled and people started to create an entire meme out of their relationship, which might have ended. Regardless, the star-like a queen laughed on the meme-fest, and the trolls.
However, this time, the adorable actress has been making rounds in the news for a completely astounding reason.
Today, the Na Maloom Afraad 2 actress just found out that she was using an Insta filter 'wrongly' which made her lips bigger and people thought she has done something with her lips.
A friend of her just told her that she has been using an Insta filter incorrectly. Apparently, all the criticism and backlash the actress received was all for nothing! Turns out that the filter that she was suing made her lips bigger.
Moreover, the Parwaaz Hai Junoon actress recorded a video regarding it.
Watch it below!
Oh, boy! This is it? This is crazy stuff Amir.
May this be a lesson for all the keyboard warriors and trolls to stop nitpicking on something that does not even exist in the first place. Give these celebs a break, and let them breathe!
What do you think of this story? Let us know in the comments section below.