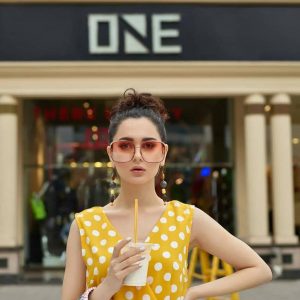 INTRODUCTION
Hania Aamir is a Pakistani actress that has worked in several top dramas and gained a position among top Pakistani actors in a short span of time. She is not only an actress but a model as well. She has not only worked in dramas but has done movies as well and is no stranger to the Pakistani audience.
PERSONAL LIFE
Hania was born in February 1997, Rawalpindi, making her just 23 years old. No doubt she is one of the few youngest successful actresses in Pakistani drama and film industry. Hania Aamir hails from Punjab while her father is from Muree. She looks a lot like her father and in siblings has one little sister that is five years younger than her. Hania's personal milestone that has made public by herself is her relationship with Asim Azhar and they two make a beautiful young couple.
EDUCATION
As for her education, all we know is that she was pursuing her bachelors from Foundation for Advancement of Science and Technology (FAST-NUCES) when she started acting in Dramas; whether she continued and finished hasn't been confirmed yet.  Least not by our sources.
CAREER
Hania Aamir was discovered entirely through social media. During her bachelors, she use to make dubsmash videos and upload them. According to the sources online, she had no connections within the industry and didn't try to reach out to agencies, as well.
In 2016, the movie Janaan was released that was Hania Aamir's first project. Imran Raza Kazmi who is the producer of this successful movie approached her since he saw the potential in her of being a great actress. That's where her career took off from. At first, Hania was skeptical about the offer and considered it a small role but later got to know about the part that was a complete supporting role as the protagonist's cousin. She accepted and played as Palwasha; the character was adored by the Pakistanis and they immediately grew a liking for Hania. Sources say that her acting was considered more convincing and believable than the lead actress by the audience. Her first role was appreciated to the point that it earned her a Lux Style Award For Best Supporting Actress nomination. Which is a great achievement for a first try at acting.
This was definitely just the beginning of her fame and career as an actress, as she bagged lead roles in movies after Jaanan being a smash hit at the cinemas. She got her hands on major film projects that everyone is familiar with – Na Maloom Afraad 2  and Parwaaz Hai Junoon. These two films have been highly successful along with the previous movie Na Maloom Afraad which didn't include Hania. Both movies were of different genre and required a different style of acting from Hania which she skillfully delivered; NMA2 being a comedy and Parwaaz Hai Janoon being a tribute to Pakistan's air force where Hania played a female pilot.
Hania showed immense potential as a diverse actor and her career was an uphill journey to more success from here onwards. In 2018 alongside Parwaz Hai Junoon another of her movie was released Band Toh Baje Ga starring her as a lead actress alongside Yasir Hussain as the male lead. This telefilm was lighthearted and full of comedy.
DRAMA CAREER
Of course, the successful actress would broaden her horizons and step into the Drama industry of Pakistan as well which is a well-built industry and produces quality shows. Hania's first drama project was aired on Urdu 1 called Titli alongside actors like Ali Abbas, Shameen Khan, Emmad Irfani,  Saba Faisal and several others. She played the role of an arrogant and greedy girl which was delivered excellently to the point that people started hating her character; which is generally a good sign since what needs to be portrayed is received as it should be by the audience.
After Titli, she appeared in Mujhay Jeenay Do, HUM TV's hit serial Phir Wohi Muhabbat as a lead actress, Visal, and Ana. This hardworking actress has garnered respect, fame and following from not just audience but from seasoned actors as well.
AWARDS WON
Hania Aamir came and conquered, to say the least. As mentioned earlier, she right after her debut film Jaanan, bagged a nomination of supporting actor and won. She then continued to receive many awards afterward in different categories including  Hum Award 2018 as a New Sensation Female and Hum Style Award for The Most Stylish Film actress. Not to mention her Lux Style Award for Best Female Debutante Female that goes to show how immediately and greatly her talent along with hard work was recognized.
SOCIAL MEDIA CELEBRITY
Hania didn't stop being active on social media and has a whopping 1.5 million followers on her Instagram account where she posts regularly. She has Twitter and YouTube accounts as well but if you are a fan of this beautiful talented actor/singer/model then you should follow her Instagram account, at least. You will not be disappointed.
Her Instagram
https://www.instagram.com/p/BvHNnzFDGkE
Her Twitter
— Hania Aamir (@realhaniahehe) January 20, 2018
ADVERTISEMENTS
The ones previously mentioned above were Sunsilk and Nestle who had Hania all over their TVC's and was positively received by the crowd. Safe to say she became Pakistan's sweetheart, greatly admired by people of all ages. Jazz Cash, Pizza Hut and Bonanza Satrangi are some of the brands that hired her for their advertisements.
SINGING ENDEAVOR
https://www.instagram.com/p/BsfmiyjjYC8/
She hasn't taken on singing as a proper profession, so far what we know. But this gorgeous and multi-talented woman didn't leave this opportunity slide and sang for the OST of her new drama serial Anna along with Sahir Ali Bagga and has mesmerized us all with her vocals. She truly is a gem of a person.
HONORABLE MENTION(s)
https://www.instagram.com/p/BvCML_tjJXD/
Hania Aamir stole the show Fashion Week 2019 by walking on the ramp in a breathtakingly gorgeous red bridal dress by Zainab Chottani. She looked ethereal and right out of a fairytale. She walked as Asim Azhar that was singing one of his songs live. It was a sweet moment that deserves a mention in her biography.
CONCLUSION
Hania is a young seasoned actor with much experience and great successful projects under her belt. Beauty with brains is how one can describe her. This actor is absolutely stunning and hard working marking her place in the showbiz as one of the respected most sorted out actors. She travels around the world and if you are a fan, you need to follow her Instagram account to keep up with her life and projects. Hania Amir urges people who feel misunderstood in society to continue being themselves, despite the criticism they may face.