KARACHI: On Sunday, young Hamza Khan defeated Egypt's Mohamed Zakaria to win the global Junior Championship in Melbourne and bring Pakistan back to the top of the squash global rankings.
In the championship match, Khan defeated Zakaria 3-1 with scores of 10-12, 14-12, 11-3, and 11-6.
The Master of Disguise strikes again! 🕵️‍♂️

🇵🇰 Hamza Khan pulls level with Mohamed Zakaria in the final of the WSF World Junior Squash Championships with yet another incredible piece of deception

📺 Watch this incredible final live on https://t.co/SklT093o2H@paksquash pic.twitter.com/rrKfuQz9WB

— World Squash (@WorldSquash) July 23, 2023
Hamza Khan Wins World Junior Squash Championship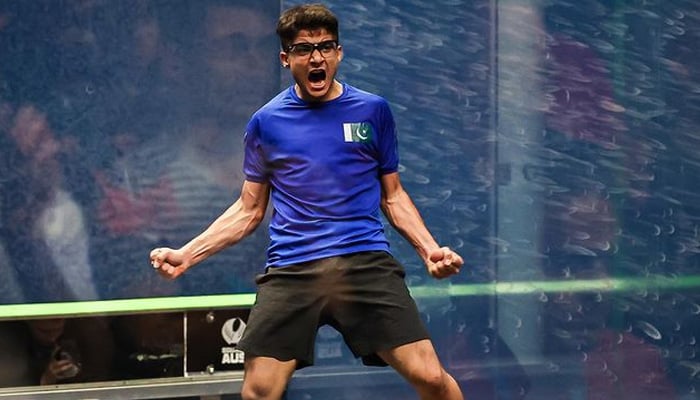 The previous Pakistani player who raised this trophy was Jansher Khan, who did it 37 years ago in 1986, making this the nation's first world junior squash championship in almost four decades.
Two consecutive games that went to tiebreakers in the semifinal match between Hamza and Zakaria got the match off to an exciting start. Hamza, though, won the next two games with ease to earn a 3-1 victory.
With a score of 12-10, Zakaria seized the lead in the second game, which lasted 26 minutes.
Another exciting match ensued as the Pakistani, who was trailing 8-10, twice denied Zakaria the crucial game point to even the score at 14-12.
In total opposition to what everyone saw in the first two games were the following two games. Before ultimately winning the fourth game with a score of 11-6, Hamza won the third game in just 6 minutes with no difficulty.
On Saturday, Hamza will compete in the World Junior Squash Championship final. Melvil Scianimanico of France rallied from being two games and a match ball down, but Hamza won the decisive game to advance to the championship match.
Hamza received many congratulations for doing the nation proud.
For bringing the championship back to Pakistan after a 37-year absence, Prime Minister Shehbaz Sharif celebrated the squash player.
According to Radio Pakistan, the prime minister wished for Pakistan to become "invincible" in the sport soon thanks to Hamza. Additionally, he expressed his congratulations to Hamza's parents, coach, and squad.
I congratulate Hamza Khan on winning the World Junior Squash Championship. His hard work, commitment & sporting prowess has made Pakistan the recipient of the title after a long gap of 37 years. There was a time when our squash icons in Jahangir Khan & Jansher Khan upheld their… pic.twitter.com/kMR59kNoD0

— Shehbaz Sharif (@CMShehbaz) July 23, 2023
According to Pakistan's president, Arif Alvi, their dominance in squash in the past was exceptional and unequaled.
"I personally had seen a lot of finals involving our Titans. A renewed glimmer of hope after a long time. Good work, he said.
Pakistan had an unprecedented and yet unmatched supremacy in squash. I had personally watched many finals among our giants. After a long time a resurgent ray of hope. Well done 👋 pic.twitter.com/6KzFXIXxb0

— Dr. Arif Alvi (@ArifAlvi) July 23, 2023
Following today's victories in squash and cricket, foreign minister Bilawal Bhutto Zardari expressed his anticipation for more sporting achievements from Pakistani athletes.
Great news in sports today! Pakistan lifting the trophy for Emerging Teams Asia Cup in cricket after defeating India. And #HamzaKhan making history by becoming world Junior Squash Champion. Looking forward to more feats from our sportsmen in coming months.

— BilawalBhuttoZardari (@BBhuttoZardari) July 23, 2023
While congratulating Hamza on his achievement in an interview with the media, squash icon Jahangir Khan also bemoaned the status of the sport in Pakistan.
See More: Google Doodle Celebrates Pakistan's Squash Legend Hashim Khan