The most adorable couple of the year Naimal Khawar and Hamza Ali Abbasi who tied the knot on August 25, can't stop sharing their sweet post-marriage moments. And they're actually couple goals!
Every time the couple shares a post the fans fall more in love with how in love they both are. And they are one of those decent couples you would not get tired watching. Their simplicity was pretty evident in their wedding ceremony. That wedding has become an ideal for every Pakistani. And to change the current trend of extravagant marriages that's exactly what was needed. Celebrity influence.
This wedding also triggered debate online about having inexpensive weddings.
Anyway now as they're sharing their sweet moments on social media it's got everyone wondering how happiness can be found in little things and small efforts too.
We would just like to say MashaAllah at this couple before proceeding to their recent post.
Naimal shared a lovely photo on her Instagram where the couple is sitting on the stairs. Where Naimal is wearing pants paired with a graphic tee and khussa holding a beautiful flower bouquet leaning into Hamza who is wearing a black kurta. Adorbs!
These two are proper couple goals and there's no denying!
Naimal captioned it "post-dinner date".
Like people weren't already adoring them enough, hamza reshared the post in his story and his caption is everything!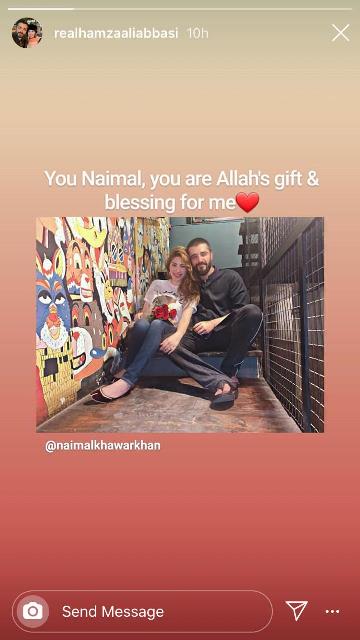 "You Naimal, you are Allah's gift and blessing for me."
AWWWHH! Could anyone say anything more beautiful? Neeaah.
What we're shook at is that Hamza sure does have the capability of expressing his love for Naimal in a small one-liner too, HAHA! Long paras are long gone, phhew.
We hope to see them live an eternity of love and happiness together. Bless them both!