American comedian Jeremy McLellan continues winning the hearts of Pakistanis with his savagery. The comedian welcomed the much-awaited birth of his daughter a few days ago and Pakistanis were rejoicing in his celebration as well.
Congratulations were floating everywhere and the man was over the moon as well. The best thing is how Pakistanis loved every bit of the posting McLellan was making regarding the pregnancy of the wife and the birth of his child.
Jeremy Was Giving his Fans Quite Some Updates As Well
Finally got Jewell to fall asleep in my arms for a couple hours and then I farted so loud that she woke up and started crying again and I've never been more angry at beans in my entire life.

— Jeremy McLellan (@JeremyMcLellan) May 21, 2018
HAHAHAHA
I've been a dad for 3 days and every time I post a picture of me and Jewell I get dozens of comments saying I'm doing something wrong. Because being a new dad isn't stressful enough, I have to listen to strangers tell me my daughter will die unless her left foot gets enough air.

— Jeremy McLellan (@JeremyMcLellan) May 21, 2018
Can We Have a Baby Too?
Skin to skin with Jewell ❤️ pic.twitter.com/njcxlINxIS

— Jeremy McLellan (@JeremyMcLellan) May 19, 2018
Given how invested Jeremy is with the current affairs of Pakistan (and we love it), the first picture he posted of his daughter caught our attention.
I Mean…Just Look At THIS Caption!
Mujhe kyun nikala? pic.twitter.com/vsNCTEgE4t

— Jeremy McLellan (@JeremyMcLellan) May 18, 2018
Meesha Shafi Congratulated Jeremy As Well
Buhat buhat Mubarak!!! Hope Mama and baby are both feeling great ?

— MEESHA SHAFI (@itsmeeshashafi) May 18, 2018
But let's move back to his caption "Mujhe Kyun nikala?" a line which was used by Nawaz Sharif when he was dismissed as Prime Minister of Pakistan for being na-ehl.
Pro-PTI supporter Hamza Ali Abbasi stepped in the celebration as well but most importantly, he had to talk about the caption Jeremy McLellan made on the picture.
Hamza Ali Abbasi Made the Following Wish to Jeremy McLellan While Talking About his Caption "Mujhe Kyun Nikala?"
The most feared ISI agent in India just became a daddy… MUBARIK! And with that caption "Mujhe Kyun nikala", you have also proven to be from the notorious Imran Khan/Establishment nexus against Nawaz Sharif! LOL All jokes apart, lets congratulate this well wisher of Pakistan 🙂 https://t.co/prKbNED8NE

— Hamza Ali Abbasi (@iamhamzaabbasi) May 20, 2018
Someone Tried to Bring the Time Jeremy McLellan Tried to Ridicule Hamza Ali Abbasi
We need Hamza Ali Abbasi to weigh in on this and make everything worse

— Jeremy McLellan (@JeremyMcLellan) May 4, 2018
But Hamza Had a Forgiving Remark
Its ok. He can disagree with me but the guy is a friend and a well wisher of Pakistan and i like him for that 🙂

— Hamza Ali Abbasi (@iamhamzaabbasi) May 20, 2018
Others, Well, They Were Just Mad at Hamza Ali Abbasi for the References He Used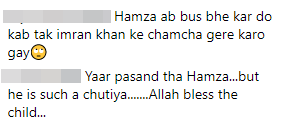 Abuses and More Insults!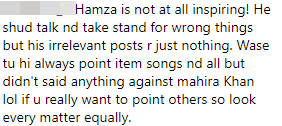 LMAO


Well, Hamza Ali Abbasi did make it a bit too complicated while Jeremy McLellan kept it simple and stayed within the context of the birth of his daughter.
A lot of people believe entertainers are not sound to become too biased towards politics and many share this view when it comes to Hamza Ali Abbasi as well.
On the other hand, once again, a huge congratulations to Jeremy McLellan!