The most awaited event is finally upon us. The handsome hunk of Pakistani entertainment industry Hamza Ali Abbasi is finally married to Naimal Khawar! The day wedding event is currently going on and the pictures are pouring in.
We are hooked!
Hamza opened up about his wedding on Twitter where he explained the circumstances in which he proposed his "platonic friend" Naimal and how she respected his idea of keeping the relationship halal. Hamza said because he wanted to keep it halal for the sake of Allah and that is why Allah has put love in their hearts and they are totally inseparable now.
Like always, his tweet gathered a lot of negative attention, with people making fun of everything from the long paragraphs to his twisted way of thinking, he responded with yet another note.
But let's keep that discussion for another day. For today, we have the treat to watch as pictures from Naimal and Hamza's wedding have started to go viral!
The festivities started with a simple Mayon ceremony. Both the actors have kept their event low key, simple and elegant.
The venue
The Bridal Party
The gorgeous bride…
Naimal is definitely slaying as a bride. Her stunning dress is not by any famous designer but instead, she chose to wear her mother's bridal dress. And wow she's rocking it.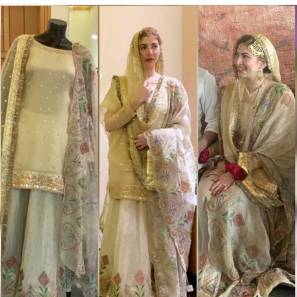 The Big Entry:
The groom, our very own Hamza Abbasi looked handsome as ever!
Making things official..woohoo!!
And the beautiful couple!!
Don't they look amazing together?
Some pyare moments!
We congratulate the beautiful couple and wish them lasting happiness and eternal love. What do you think of the stunning pictures, guys?
They sure make a perfect couple, don't they? Share your thoughts with us in the comments.