Disclaimer*: The articles shared under 'Your Voice' section are sent to us by contributors and we neither confirm nor deny the authenticity of any facts stated below. Parhlo will not be liable for any false, inaccurate, inappropriate or incomplete information presented on the website. Read our disclaimer.
My name is Muhammad Ajmal Hassan and I am a resident of Karachi who just recently graduated from Ghulam Ishaq Khan Institute of Engineering Sciences and Technology (GIKI). Ever since I was little, I had this fascination with technology, which led me to pursue a degree in Mechanical Engineering from the country's most top-notch University.
Over my years at the university, I had worked on a variety of projects ranging from automated air crafts to surgical robotic arms and electric vehicles. My passion for automobiles led me to join Team HammerHead as a volunteer for which later on I became the captain, achieving the feat of developing the first-ever carbon-fiber monocoque car chassis in Pakistan, a dream which had been there for a long time.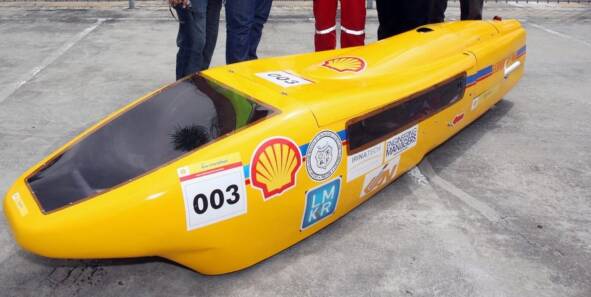 My future endeavors include the design and manufacture of cost-effective Battery electric vehicles and promote those in my Country.
What is the Shell Eco-Marathon?
Shell Eco-Marathon is an international competition for building fuel-efficient cars. It started around 35 years ago, with participants coming in from all around the world. There are two vehicle categories, namely, Urban and Prototype (based on vehicle shape). These are further classified based on the power source, battery-electric, hydrogen fuel, and internal combustion being the popular sources.
Team HammerHead and its Achievements :
Team Hammerhead is GIKI's official, student-run team founded in 2011 by a group of talented individuals who participates in the prototype electric battery category. The team is also a flag bearer for starting the participation in international competitions, which was followed by multiple Pakistani teams achieving respective distinctions in their events. The team also holds the top three highest mileages held by Pakistan at Shell Eco-Marathon.

Previous Achievements:
6th position with a mileage of 211 km/kWh in 2014
Won Shell Dream Car challenge with the design innovation on steering systems – adding tilting mechanism to make turns at high speed (2015)
6th again with a mileage of 311 km/kWh in 2017(highest by any Pakistani team)
What we achieved this year and what we are doing currently:
Since the competition was switched to virtual mode this year due to COVID 19, A lot of technical aspects including mileage were unfortunately removed from the competing factors. Nonetheless, HammerHead was successful in developing the first-ever carbon fiber monocoque car chassis in Pakistan weighing just 23kg with best teams in the competition being around 25kg and the world record being 20kg, raising our mileage to 650 km/kWh.
A monocoque frame is a frame that merges the chassis (lower part) to which the wheels and engines are attached to the shell (body of the car) achieving a greater strength to weight ratio. Our current design incorporates a monocoque frame which is made of a composite carbon material reducing weight to almost half as compared to our previous design of 40kg which was made of mild steel. We were also able to decrease our coefficient of drag to about 0.12 with the world record being 0.075, with the shape of our new design. This design was personally done by me.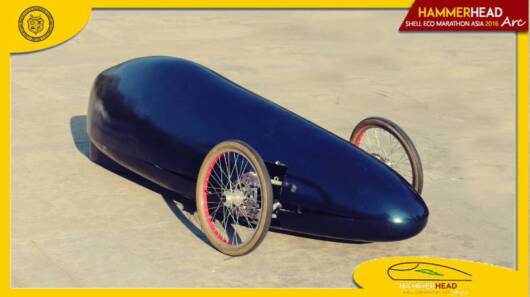 Moreover, HammerHead was also successful in winning Shell's 'Race For Your Money' challenge a local pitch competition for receiving a sponsorship. The team won this sponsorship based on a new idea of enhancing fuel efficiency using Artificial Neural Networks – Deep Learning to predict faults and provide the driver with real-time feedback of component conditions, optimum driving speeds, and paths.
Currently, the team is in the process of further improving the design, working on perfecting the previously kept design tolerances due to a lack of manufacturing expertise at the time. The Hammerhead team plans on removing most metallic parts of the car chassis with parts made out of Carbon Fiber to further reduce the weight and hopefully be grand champions at Shell Eco-Marathon next year.
The Team:
Muhammad Ajmal Hassan (Team Captain) – Responsible for Team building and Project completion
Syed Muhammad Maaz (Team Manager) – Responsible for all internal and external affairs.
Muzammil Arafat (Electrical Head) – Responsible for the electric system.
Muhammad Aleem (AI Head) – Responsible for implementing the AI system.
Syed Ahmed Ismail (Documentation Head) – Responsible for any and every documentation.
Arsalan Mehmood (Sponsorship Head) – Responsible for sponsorship operations.
Taziem Uddin (Marketing Head) – Responsible for marketing our campaign.
Mujtaba Arif (Website Head) – Responsible for managing teams website
Saad Ullah Jan (Senior Member) – Supports all operations.
Muhammad Afaq (Junior Lead Designer) – Responsible for new steering system design.
Roshan Rehman (Junior Member)