The heartthrob of Pakistani fans of the Turkish TV series Diriliş: Ertuğrul, Esra Bilgic aka Halime Sultan, lately joined the Pakistan Super League (PSL) franchise Peshawar Zalmi as ambassador, looks like Ertugrul, aka Engin Altan Düzyatan is upset with her decision.
Peshawar Zalmi on Saturday released its official anthem 'Kingdom', featuring its brand ambassadors Mahira Khan and Turkish star Bilgiç besides Hania Aamir and Ali Rehman.
The news of Bilgic joining was announced by Peshawar Zalmi owner Javed Afridi in a social media post. "Welcome Esra Bilgic to the Zalmi family," he captioned a picture of the Dirilis: Ertugrul actress.
Amid speculations regarding the Turkish actress joining PSL, fans seemed intrigued to see a video call between Bilgic and Afridi on Thursday. The Internet was abuzz after Afridi shared a screenshot of his video call with her on his Instagram story. He wrote, "Pleasure catching up with you Esra."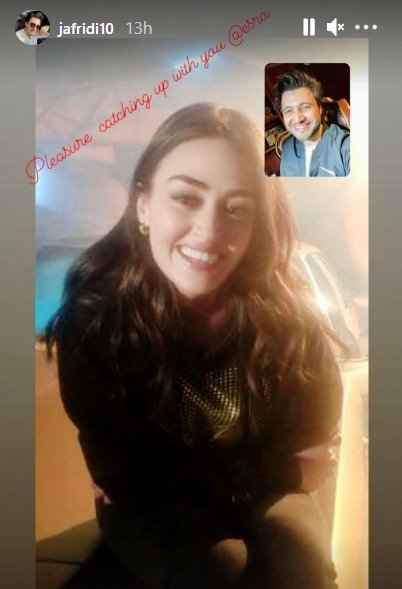 Following the update, the screenshot was widely shared on social media platforms. Fans were seen making guesses about her joining the Zalmi squad. Meanwhile, the others showcased their humor with turning it into memes.
Now, in a video clip, Esra Bilgic can be seen telling Ertugrul about joining Peshawar Zalmi as an ambassador, reacting to the news, Ertugrul is seen fumed by anger and upset with her betrayal.
Let's take a look at the video!
LOL! Since Bilgiç confirmed the news of her representing Peshawar Zalmi in PSL 2021, Pakistanis are over the moon. Meanwhile, using the clip from Diriliş: Ertuğrul, a social media user added a little twist to its subtitles.
The announcement of Bilgiç becoming the ambassador of the Zalmi Kingdom came late Friday evening.
"From now on, I'm a part of the Zalmi family," Bilgiç wrote on her Instagram account, accompanied with a picture of herself sporting a black leather jacket and posing stylishly against yellow-gold light.
Well, as it appears, it is not only Erutgrul who feels betrayed here. Many fans of other PSL teams are also wondering why Bilgiç ditched them.
Meanwhile, the PSL 6 began on Saturday at National Stadium Karachi. The first half of the tournament will be played in Karachi while the second in Lahore at Gaddafi stadium.
Last week, there were also speculations about the pawri girl Dananeer Mobeen becoming a part of the Peshawar Zalmi family. Meanwhile, PSL 2021 released their new anthem named Groove, and people had quite mixed reactions about it.
What do you think of this story? Let us know in the comments section below.