Are you aware that the hacker 'M' is taking over social media platforms in Pakistan? The signature 'M' has been appearing everywhere, taking onto the role of becoming a nationwide phenomenon.
Lately, several major cities in Pakistan: Karachi, Lahore, Rawalpindi, and Islamabad have been affected by this. After the hacking of social pages, KOL's social media has been next in line for being hacked; Pendu Production, FHM Pakistan, People Magazine Pakistan, MangoBaaz, UET's Einsteins, BWP Productions, and the Fun Fin being some of them.
Lately, 'FREE FIRE' users have also received funny notifications from the mysterious 'M' which have a hidden message; the first letter of push notification from 1/9 to 8/9 forming into "I am Moco".
The Big Secret:
The Big Secret: This is none other than the campaign of 'FREE FIRE PAKISTAN' for their MOCO: REBIRTH campaign from 10th September till 26th September!
A lot of amazing gifts await players on September 18; providing countless opportunities to win several prizes. Free Fire has always impressed the audience by producing a wonderful game experience.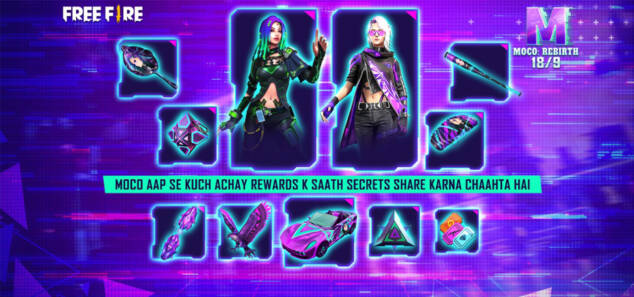 Last month, the amazingly popular BATTLE ROYALE game was also introduced in the Urdu language. Moreover, Free Fire also announces new events for the users.
The Garena Free Fire Moco: Rebirth event will introduce players to the awakened Moco, an outlaw and hacker.
Moco is also known as "chat noir" for her skill and intelligence. She can hack into any computer she wants, without anyone noticing. After she gets the information she needs, she disappears like a ghost.
Moco will be having her very own in-game event, Moco: Rebirth, from 10th September. The Moco Rebirth event will feature a full pack of exclusive collectibles, a refreshed interface, and in-game events with a bunch of rewards players can snag, among others.
What are you waiting for? The message? We have you covered….we just received a message and it says 'Join Moco Rebirth Event now! Loads of AMAZING REWARDS wait!'
Download Free Fire from here now.
Check out our social media handles.
What do you think of the story? Tell us in the comments section below.