Just like any other country, Pakistan too has flaws in abundance. It is a country where life is difficult for the common man evident to the political, economical and societal problems we continue to face every now and then. Yet, life goes on somehow and despite blaming the government for everything, every Pakistani has an individual role to play that accounts for the welfare of our country.
You must know Pakistani people, irrespective of where they are living, they are prone to finding drawbacks in everything our country does. Where people rant against the maddening situation prevailing in all aspects of Pakistan and demand change, there are also people who are not happy when progress is made.
God knows what these people want, they outright begin comparing Pakistan's circumstances to that of other countries. You can find so many people like that. It is easy to rant and be critical about something, but appreciation is necessary when something shows improvement.
It simply shows people are obsessed with criticizing their country. They simply do not want to settle for anything less than perfection.
We have the latest incident where something like that happened. A detractor of Pakistan was seen indulged in a conversation where he is being highly critical about our country's affairs. Best thing is the reply this person gets from the friend they were talking to.
So, here is how it unfolded: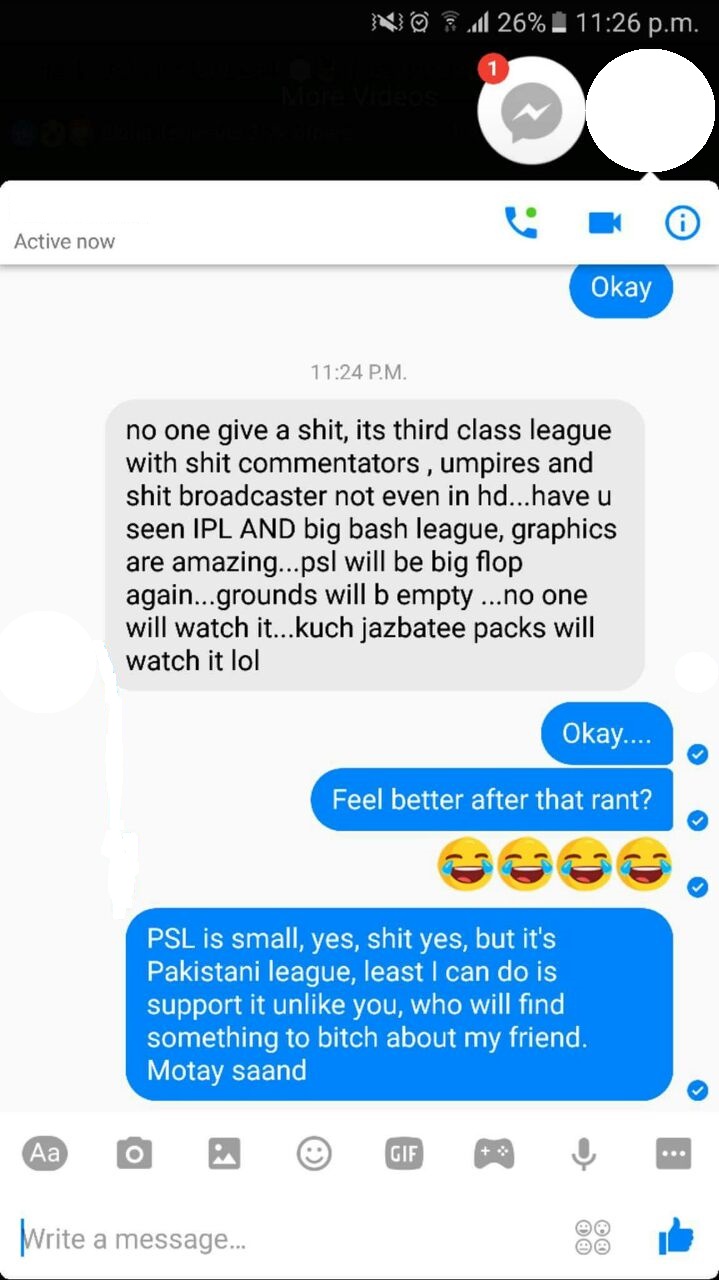 Ah, I wanted it to continue and grab popcorn! You motay saand, why are you like that?!?
This dude seems like the kind of people who are fond of Indian dramas, films and fans of IPL and everytime Pakistan makes progress in sports or film & entertainment, they simply scramble towards being contemptuous of everything.
You can find so many people like these, even ones living in foreign countries and acting like this. They are even found on social media where foreigners spot them being scornful towards their own home. What impression do they incur on them? Clearly, they give an impression of no unity among Pakistanis.
Such people would be caught supporting Indian content and be first in line to watch IPL matches, but when it comes to Pakistan, they begin abusing the efforts carried out by Pakistani people no matter how small or big they may be.
These people need to realize everything has a mere beginning. PSL has reached up to the mark and is a league of commendable standards. There's no doubt its debut season was well acclaimed and reached heights no one predicted it would. But do they bother shedding light on real facts instead of learning uncredited, mindless and measly information haters spread?
These people also have an individual responsibility for our country's welfare but do they ever talk about what difference they are making for its betterment?
No wonder they face a heavy round of getting roasted by others on the sick things they say.