Day by day incidents take place which clearly reflects people's sexual frustration and their open representation of it. Every country has societal issues which can be brought into notice to aware others so that they don't become prey of such individuals. In current times, Pakistan at one hand is struggling to stabilize its economic process while on the other side the citizens are facing some extremely filthy situations which can shake anyone with fear.
This guy was openly jerking off in daylight in Lahore!
Recently, another similar case came up from the Lahore area of Pakistan. In this advancing world, it has easy for everyone to voice out their concerns or share their illicit experiences. A girl from Lahore shared a horrific incident on her Twitter and Pakistanis are in deep shock. While passing a street, this girl encountered a guy who started masturbating in broad daylight after seeing her coming.
The guy was on his motorbike, standing on the side of the street and was constantly touching himself while the girl was passing from there. As soon as the girl saw him doing it, she started recording him but the camera also couldn't stop him. After she passed by him, he kick-started his vehicle and rode off. According to the girl, she was NOT wearing anything revealing instead she was in a decent dress. This happened near Thokar Niaz Baig in Lahore, Punjab.
Also read: An Old Man Groped A Young Student Wearing A Burqa In Broad Daylight In D.G. Khan And It Is Absolutely Sick!
This is what the girl shared of Twitter to make other females aware of such perverted minds!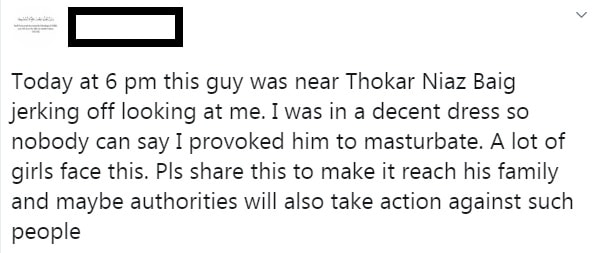 Here's the video of the pervert who wasn't even scared of the camera!
In the name of dominancy, how low will the males stoop?
Time to time, a new aura is presented in the news surpassing Pakistanis level of expectancy. No wonder what has happened to the male population of the country and why have they covered themselves in the dirt of ethically wrong stances. Leaving no pinch of a civilized nation, some Pakistani men still believe that showing off your private parts or groping a female in midst of the day will give them the audacity to take advantage of the feminine space.
Check out: This Guy Allegedly Associated with A Political Party Was Seen Jerking Off in His Car and It Is Sickening
Now, the girl expecting that the government authorities will take notice of the incident and that they will do something to stop such activities. Such cases have been reported in the past as well and are increasing day by day. These incidents are not just morally incorrect but these can affect in such a way that it can serve as a trauma to the victim for the rest of her life.
Have anything to share in the story? The comments section is just below!