Every business organization around the world can relate to how tricky and difficult it is to deal with unhappy customers. Any loophole or compromise in service can lead to a bad review that certainly draws the attention of many. With the growing use of social media, platforms such as Facebook and Twitter are becoming the best way for customers to reach out to their service providers and voice their opinions.
We witnessed one such great example a few days ago on Facebook where a customer named Imtiaz Aziz a.k.a Mama's Boy lodged a complaint to his cellular service provider (Telenor) for not experiencing proper services in his area in the most sarcastic and hilarious way.
According to him, a robbery took place at his neighbor's house during the said time period. The situation became infinitely more intriguing because his neighbors noticed him walking around every night in the street and of course suspected him to be involved in the robbery
Read his complete heartfelt story here at: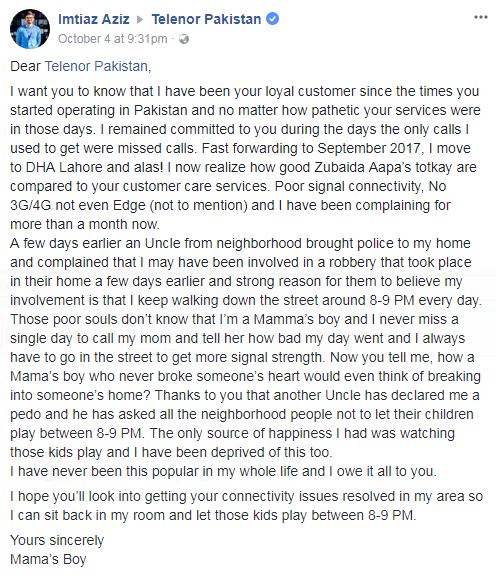 Telenor responded quickly to his complaint, by thanking him for his loyalty and making sure he knows that his complaint was heard.
Mama's boy further explained how he has more to lose than just his reputation (and frankly, who wouldn't cry if someone was taking away their free biryani?) 🙁 
But Telenor Pakistan assured him that they had his back and made sure that his issue was ACTUALLY resolved!
To which our Mama's Boy responded with gratitude while taking another jab 😉
During this entire conversation, some others joined in on the fun and posted their opinions about the situation 🙂

……

Incredible

This is a great instance of the power of social media and the gaining momentum of the medium being used as a servicing channel by big multinationals like Telenor Pakistan.