In its latest collection, Gucci has once again romanticized, or shall we say, profited from cultures that are not theirs while combining aesthetics they do not remotely understand. This time, the Italian high fashion brand released its own line of kaftans. Not so surprisingly, these Gucci kaftans are being sold in the range of $2,500 to $3,000.
According to the brand, its "floral embroidery organic linen kaftan" is for $3,500, or Rs540,977. But as you can see, the kaftan looks very similar to a kameez.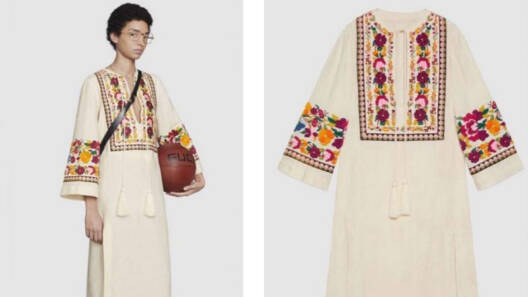 Although it is not an original or profound take on a centuries-old tradition, the design is an average rehash of what we have seen outside of our local storefronts, or in the catalogs of the renowned Generation brand.
In a nutshell, the company took the design aesthetic they have seen when walking around Asian and Middle Eastern streets, recreated them, put them on a model wearing green tracks, gave her a basketball, and bam – easy peasy lemon squeezy – billions!
A Twitter user took was quick to point out the similarity. "In Multan, we can get this dress with trousers and dupatta in Dera Ghazi Khani only for about 2000 to 2500," she wrote, adding that meanwhile, Gucci is charging 3500 dollars, "meaning PKR544,309.50" for the same.
Another user pointed out that the multicolored kurta, as it is called in our part of the world, should come along with a monthly installment program.
Check it out!
Well, of course, for clothing that costs as much as this, monthly installments are justified. Come to think of it, there is little chance that you could otherwise afford it for the people who wear it every day.
It is actually sad that while we glorify international brands for their half-hearted attempts to replicate looks that are outright imported, our local artisans are largely overlooked for their elaborate and eye-catching designs. These people live on the fringes of society and the economy, while Gucci's new line has already been sold out.
This is not the first time this has happened. Some brands have taken advantage of non-western traditions and cultures for a profit several times before, maybe even as a trend, without much push-back or accountability. Not so long ago, Forever 21 copied the kolapuri chappals and also a proper dress made of ajrak.
Besides copying the East, these Western brands are also notorious for being worth a king's ransom. Louis Vuitton, in its latest collection, has urged its loyal customers to invest in an airplane-shaped bag that probably costs more than an actual airplane. For $39,000 which makes about Rs5979688.38. Can you believe it?
What do you think of this story? Let us know in the comments section below.