Is it from outer space? Did it grow in the grass? Or is it the Green Lantern's Horcrux? Well, whatever it is, it is Green and it is mysterious!
This mystery #Greenbox has taken over social media, and everywhere you go, you see a glimpse of the box. From the internet to different locations, from the sets of TV to shopping malls, you must be wondering what this Green box is all about.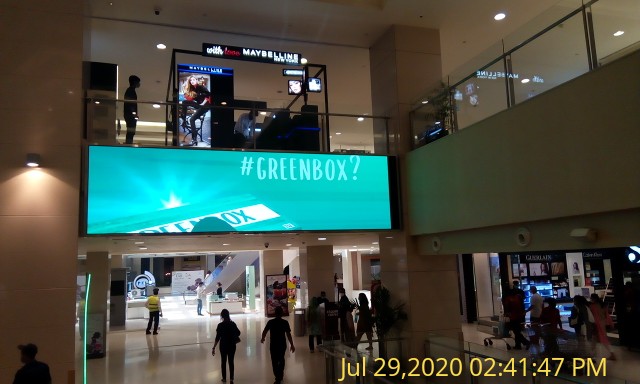 The Curious Case of the Green Box continues to run because the best part about the charade is that it CANNOT be unlocked. Not yet, that is.
A green birdy-bird told us that whoever has received the Green box, cannot open it yet. Anyone who has received it is asked to scan the QR code which takes them to a mysterious link with a timer, only revealing the date and time of when the code will finally be revealed.
Celebrities have been lucky finding the green box. Iqra Aziz, Yasir Hussain, Muneeb Butt, Aiman Muneeb, Falak Shabbir, Sarah Falak are just a few to have encountered this magical box that is running rampant in its takeover of social media.
Watch your favorite celebrities mess around with the much anticipated Green Box!
Yup, we saw how confused and perplexed our favorite celebrities were with the Green Box, but the excitement on their faces? You just cannot top that.
For now, we're only sure of ONE thing related to the magical Green box. Whoever owns one, can only open it on the 31st of July. Not before that.
Just as all the celebrities and other influencers, we too, are super EXCITED to see what's inside this Green box?
This is how the internet is reacting to the Green box takeover
Married celebrities are receiving #greenbox n are much curious to open it on 31st july. This should be from #sabz_sitara I wish!

— Munawar Siraj_Rana (@Hm_apk_hain_kon) July 29, 2020
Sb ko #greenbox kiun mill ra hai,

— Daniyal Mehroz👑 (@daniyalmalik86) July 29, 2020
#Greenbox hmy to nai mila :'(

— K.A.I.N.A.T. (@kainatjaved99) July 29, 2020
For now, all we can do is make random and wild guesses for what might be inside. We're hoping for a green baby alien inside but pretty sure that's far-fetched. What do you think is inside the mysterious Green box?
Let us know in the comments below.