People in Tharparker Sindh are out to hunt grasshoppers to incorporate them into some of the most loved traditional dishes of Pakistan; Biryani and Karhai. Yes, you heard it just right. There is a humble food joint in Chacharo District that is serving delicious 'Tidda Biryani' and 'Tidda Karhai'!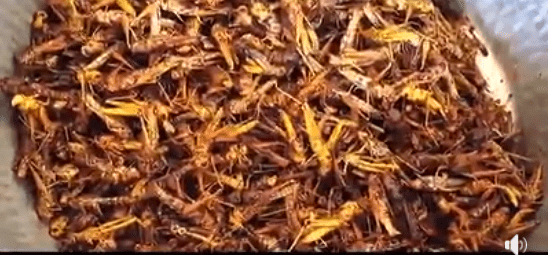 An unconventional choice of protein compared to the usual chicken and beef. However, grasshoppers and crickets are no strangers to people's dining tables in other parts of the world; mostly served fried as a snack.
It's so delicious that the owner claims people come from far-flung areas to enjoy this delicacy!
The video shows several customers munching on these deep-fried grasshoppers and they seem to be enjoying it as well. One customer even recommends the tidda karhai that is served by this restaurant.
However, this time around, it is actually an insect that is widely consumed worldwide because of its protein value and is considered halal; not pig meat or donkey meat guise as beef, fooling people. Recently, another shady pair of men was captured by the police that was smuggling 5 tonnes of dead frogs in a rickshaw heading towards a renown food market.
Unlike these stories, this proud restaurant in Chachoro openly serves grasshoppers and clearly knows how to give it a desi twist with spices by incorporating these insects in Biryani and Karhai. Genius! Furthermore, they encourage that people of other cities should visit and give it a try; guaranteeing that they will be hooked.
Moreover, in some poverty-stricken countries or cities, grasshoppers, crickets or locusts are the only choices of food they have available. But, the Pakistanis of Thar have truly presented something that many find repulsive with a delicious 'tarka', that might just make one try out these exotic dishes.
For a little information in case your adventurous streak is activated and you plan on trying them out.
How-to-eat-grasshoppers guide.
If you have the guts to do this, proceed reading:
Pull out their heads and remove entrails. Although entrails are edible, but removing them reduces the risk of parasite-transmission.
Next, you need to rip off those tiny legs and wings.
Now they are ready to be roasted, deep-fried, pan-fried and BBQ'd on a skewer.
Are you into that satisfying crunch…of the fries? Then you may just like grasshoppers. Not that much of a difference, right? But according to the customers in the video above that have been munching on them, it has definitely piqued the interest and one cannot help but wonder how they would taste.
Does this sound like a foodie journey you're ready to embark on? Let us know in the comment section below!