"No religion is higher than humanity." – Abdul Sattar Edhi
Abdul Sattar Edhi – a gem of a person who no longer remains among us. Abdul Sattar Edhi is not just a name – he is a symbolic pinnacle of humanity, peace and all that is good for mankind.
Abdul Sattar Edhi was globally recognized as a humanitarian, philanthropist and ascetic who led the sole purpose of his life in the serve of mankind. What Edhi Sahab successfully accomplished is immeasurable and beyond one's comprehension.
If you come to measure the entire Edhi empire, you would come to realize it takes more than everything a normal person would approach with. It requires a heart as big as Edhi's and a place within for humanity that could just store the entire world.
The Edhi Foundation's slogan is: "Live and Help Live".
It has a vast number of orphanages, home shelters, and rehabilitation centers. It runs the largest fleet of ambulances across Pakistan. It also helps burials of unidentified bodies. Edhi Sahab provided Pakistani people a capacity that they could not be more grateful of. He was like an angel in disguise who engaged his entire lifetime in the best interest of our people.
He was such a man whose height of goodwill and works have been globally recognized as impulsively an exception. In fact, Google managed to recognize everything Abdul Sattar Edhi Sahab has done for humanity and honored him by dedicating their homepage to his memory.
"People have become educated, but have yet to become human." – Abdul Sattar Edhi
Browse Google.com now and have a look yourself…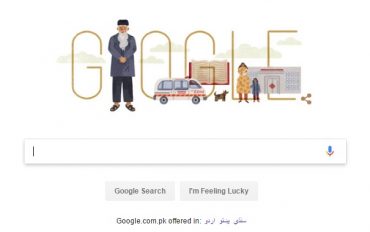 On Mobile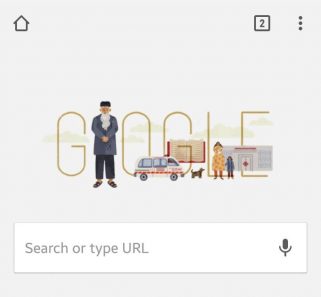 "In celebration of Abdul Sattar Edhi, let's all lend a hand to someone in need today," the message by Google.
Well, what can we say more about the man whose service is accountable beyond measure?
Come to think of all the people whose lives have forever changed for good, courtesy of Abdul Sattar Edhi and his drudgery.
Many affluent individuals today boast their charitable contributions, give away funds in their names. Edhi Sahab was not like any and chose to serve the poor from the age of 20 when he himself was not affluent at all.
Edhi Foundation has reached a global landmark. It even manages to hand out charity globally. In 2015, the global organization managed to raise as much as $100,000 in relief aid for Hurricane Katrina victims.
Once Abdul Sattar Edhi was asked that he helped non-Muslims through his ambulance service, to which he replied:
"Because my ambulance is more Muslim than you."
On the occasion of his 89th birthday, let us remember Edhi Sahab in our prayers and most importantly, in our conduct.
Read Also: Edhi Foundation Honored With $1M And ISA Award For Serving Humanity!