People are effortlessly normalizing exposing their former partners on social media and it is getting out of hands now. Be it guys or girls, both of them have started to share their breakup and betrayal stories publicly. People no longer care about staying anonymous or speaking out about a private matter publicly. Even the deepest and private secrets are not spared.
From the classiest to the most unorthodox breakup stories from around the country are surfacing on the Internet. All you need to do is grab some popcorn for this one!
Stories of gold-digging girls
Just recently, a guy shared a story of his friend on a group. Apparently, he wanted to stay anonymous. Be that as it may, let's move on to one of the many spicy post-breakup stories.
So basically, the ex-girlfriend of this guy messaged him out of nowhere on WhatsApp. It begins somewhat like this- the girl asks him not to act like other guys who expose their exes. Moreover, as both of their friends know about their 'scene', she requested him not to expose her as they will all figure out who he is talking about.
The guy simply tells her not to worry as he does not have any such screenshots with him. Then came the ulterior motive in messaging him! As Eid is approaching, the girl went on asking him to buy a dress for her online. Apparently, she claimed to not have her credit card.
Upon asking if this is the reason she messaged him, she says no, there is something else as well. She goes onto expressing her feelings for him and talks about how much she misses him and still loves him. Not only this but the greed for dress also made her say, "I want you back."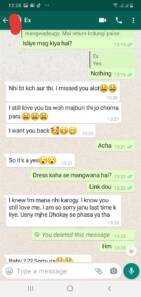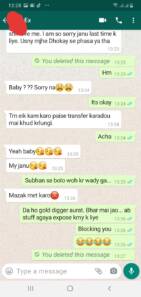 Forging ahead, the guy asks where she wants to order the dress from. And once again, she begins the guilt trip and apologizes for cheating on him. She then asks him to transfer the amount to her so she could order the dress herself.
Then came the unexpected twist in the story. The guy told her to ask Subhan, probably her current boyfriend, to transfer the amount and told her to get lost. Lastly, he also tells her that he has got stuff to expose her now and blocked her. Well, the gold-digging ex-girlfriend coaxing him into transferring her money certainly came to bite her in the back.
While some people share their successful love stories, others share their stories of failed relationships and betrayals. Nobody's holding back anymore, everybody's jumping on the bandwagon of taking revenge. We are proud of how this guy handled her!
What do you think of this story? Let us know in the comments section below.