In the era of the internet, social media acts as a keynote of harassment and an unsolicited approach for women. A man called out an alleged manager of Pakistan's well reputable and big fashion brand, Gul Ahmed, for harassing a female candidate for a job.
Taking to LinkedIn, the man, Qasim Ali Tariq called out the manager of the brand for harassing a woman who was looking for a job opportunity.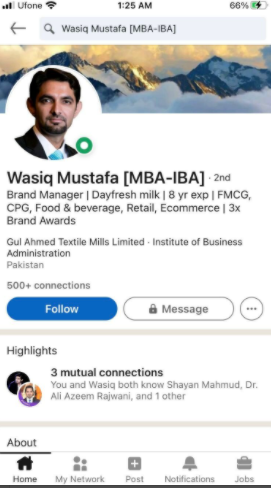 "Hello, Everyone! Hope you're doing well. I'm writing this post with the screenshots attached below to make sure everyone especially all the females out there should be aware of what Mr. Wasiq Mustafa [MBA-IBA] manager Gul Ahmed Textile Mills Limited is doing in the name of expanding his team," he wrote.
"The sole purpose of writing this post is to let everyone know that you cannot get away with this kind of behavior ever, this is harassment and I will personally make sure he is held accountable for it."
Here is the conversation between the two
As it appears, Mustafa approached the woman asking if she is interested in a job opportunity at Gul Ahmed. As the woman as for more details, the conversation began.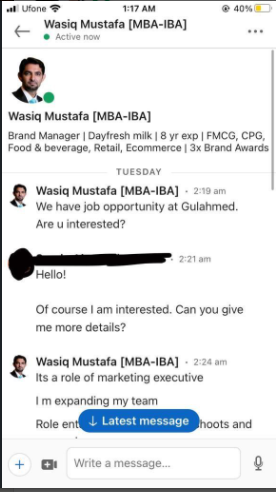 After telling her about the job position, he asked her to share her number so he can call her "tomorrow to discuss". As she gave him her mobile number, she also shared her CV with him.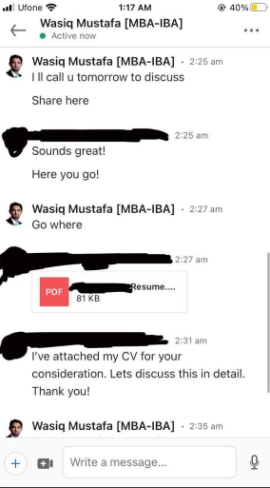 "Sure, I texted you my number," he said. Now, the conversation moved from LinkedIn to WhatsApp.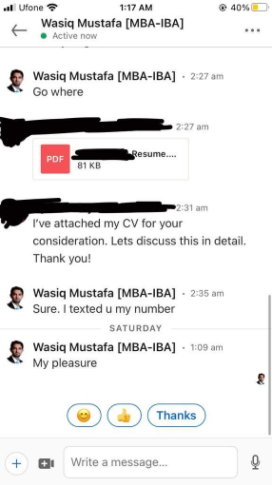 The candidate asked him to let her know whenever it is feasible for him to discuss the job opportunity on call. However, no work-related conversation took place. Instead, later that day after midnight, Mustafa messaged her, "Hey beautiful. How are you?"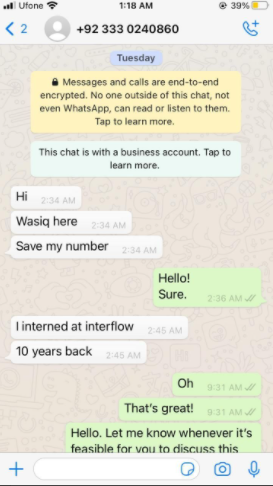 "How the hell is your message work-related? You are literally harassing me at this hour, I'll make sure Gul Ahmed knows what the hell you are doing in the name of expanding your team," she replied.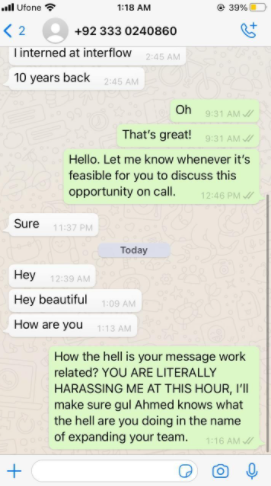 Original post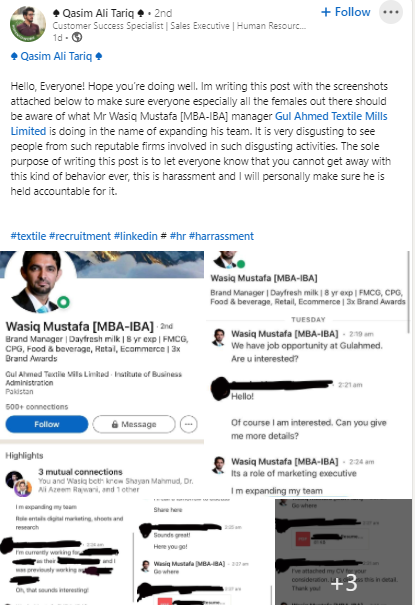 Here's Gul Ahmed's post on the entire harassment issue!
According to Gul Ahmed, Mustafa "resigned from his position of Manager Brand Management at Ideas by Gul Ahmed on Aug 17, 2020". Turns out, he has not been working for the company since last year. Hence, they stated that the company is not responsible for Mustafa's actions.
Earlier this month, a woman called out an HR manager for approaching her inaptly asking for adultery in exchange for giving a job.
Unfortunately, this is not an isolated case. Previously, another brave woman called out different men for approaching her on LinkedIn. 
What do you think of this story? Let us know in the comments section below.