Pakistanis love, LOVE the English band Coldplay. When the band visited Indian few months back, many Pakistanis wished Coldplay would, someday, perform in Pakistan as well. Having the similar wish, Filza Fatima, a die-heart Coldplay fan wrote a Facebook post on the band's official page, inviting them to perform in Pakistan.
Pakistani Coldplay fans were so glad someone had finally made a request to Chris Martin and Co. to perform here. However, you know how they say, there's always this one person who ruins the party. Soon after Filza's post went viral, this one guy named Samar Haider ambushed her for all the wrong reasons.
He messaged Filza and started abusing her on how inappropriate her post to Coldplay was. Filza was bold enough to share the messages on her social space.
God Knows What Is This Guy Babbling About But Just Look At His Choice Of Words!
After sending these degrading messages, the guy blocked Filza (irony) and unblocked her again when she spoke on her social media space regarding the messages he had sent her.
He Sent These Messages: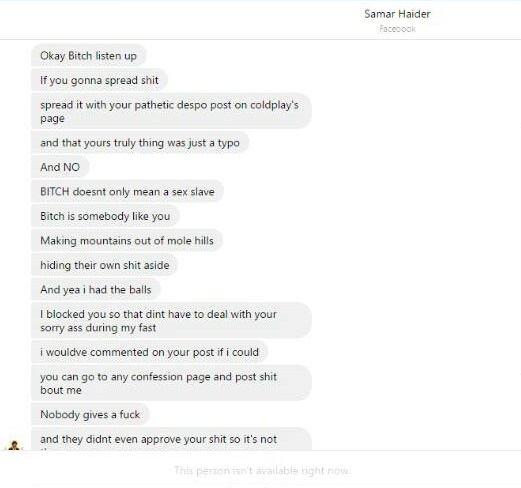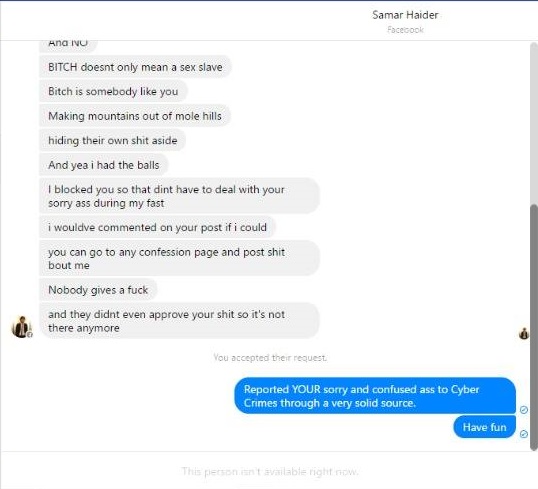 It is indeed strange how masses on social media think they can get away with anything. Sure, the power of these public forums is increasing day by day, but when it comes to being counter-productive, there is no getting away with it. Soon after sending these messages, Filza blocked him for the sake of her own sanity.
Bullies like these are a threat to people. While he was continuously impeaching her online, one may feel threatened that he may even hurt her in physical contact. Nonetheless, it was brave of Filza to come forward and share how she was bullied.
Here's to hoping the guy gets the taste of his own medicine. Also, we hope Coldplay listens to Filza's request and comes to Pakistan!!!