"Pull Ke Uspaar", a phrase stretched by a mentality in Karachi where the citizens feel a complex among themselves. It is commonly thought by Karachiites that people who live in DHA and Clifton area are affluent and have a whole different lifestyle which is envious for many people. While that is true, based on the demographics and the property types.
However, this mentality has become toxic and bred in the minds of people which can ultimately be a demeaning thing for many. Meanwhile, we just came across a girl who ranted about this whole distasteful mentality and it is worth reading!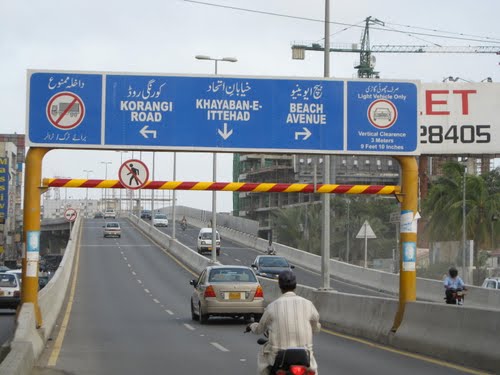 Here we go… busting the "pull ke uss paar" mentality of some Karachiites
*Eww gulshan mai rehti ho*

As somebody who went to a well known, private, English medium school, I was quite content and rather proud (which now I realise I shouldn't have been) of my education and background till I started going to a university which was 'pull k us paar'.

Before I go any further with this extensive rant of mine I would like to state that according to Wikipedia, Defence housing authority came into existence in 1980. Which implies that people who moved there, even those who moved fairly early, used to live 'pull k is paar' before the 1980s. North Nazimabad, Gulshan e Iqbal block 7, PECHS are/were other upscale neighborhoods in the city that houses 14,910,352 inhabitants according to the 2017 census, out of which 660,931 reside in DHA; mere 4.43% of the population.

Over the 5 years that I spent in university, I came across many very demeaning opinions that people have regarding residents of and life in general at the other side of the city, most of which were based on pure ignorance. I refuse to believe that anybody who has spent 25 years in this city does not have friends or family that reside in localities other than Defence or Clifton.

A few very commonly heard phrases are 'Nazimabad isn't safe', 'abay tere ghar kon aye, Gulshan buhat dur hai', 'yar Tariq road walay dolmen mein ajeeb crowd ata hai', 'Al-Asif k pass jao ge? Zinda wapis nahi ao ge', 'PECHS buhat dur hai', 'FB area kahan hai?', 'airport se age bhi Karachi hai?', 'wo bechare mehmoodabad mein rehte hain', 'North Karachi pata nahi kahan hai', 'lucky one mein itnay baray outlets kholne ka kya faida, wahan ki awam konsa khareede gi', 'main farmhouse jatay waqt malir se guzri, wahan tou kafi normal ghar hain', 'dude ab tou aylanto bh posh nahi raha, aisi awam ati hai' I can write volumes and volumes on this, but I would like to end it by stating the most classic one I have heard yet, 'malir cantt mein icecream milti hai?'. Oh the simplicity, oh the unawareness.

It saddens me to say that some of the most privileged people I know are also some of the most ignorant people I know. These are all excerpts from real conversations I have had with people. People weren't allowed to go to lucky one mall because the crowd will be weird, people would go to Area 51 but not Arena, because again, crowd will be weird. People didn't want to be familiar with routes of any place that lies beyond Khy-e-Ittehad. People don't realize that abul hassan isphahani road and Rashid Minhas road are both in gulshan, because abay gulshan itna bara kab se ho gya? People (including myself) made fun of visitors at seaview because they come in rented cars that they have managed to rent after maybe a month's labour, fitting in as many family members as they can, the kids sporting their fashionable best by wearing flashy sunglasses, or may I say shades, the women wearing the only red lipstick they own. Dolmen mall Clifton is a nightmare on Sundays because again, weird crowd.

What is this weird? How do we define it? People who unlike you don't know how to pick the right pieces at Sunday bazaar? People, who have better Urdu than yours? People who had to make a choice between their kid's education and a lavish lifestyle and they chose the prior? People who couldn't afford to spend 50K per month on each of their child's education so they sent them to schools where they received a good education but failed to develop an English accent as polished as yours? People who didn't inherit family money as abundant as you did? People, who live in wonderful homes, in wonderful neighborhoods that are beyond your bubble of 'Karachi'? People, who work hard for a month before they can take their families to a mall? People, who have a choice different from yours? People who couldn't afford yearly vacations so they went once in 5-6 years or maybe never? People, who make up the other 95.57% of this city's population?

Not only are we ignorant, we are proudly ignorant. While the diversity of this city should have been its beauty, we become bullies or pitiful towards it. Nobody is haye bechara, it's just a life different from yours but just as beautiful. Tell me you didn't feel awkward or conscious or a misfit the first time you traveled out of Pakistan? Tell me you never googled things to know what is right or cool? What is this pride that we take in our self-determined supremacy? Irrespective of the age group, we all keep wearing masks after masks to appear different from the 'other' people. We all want to appear as aristocratic as we can. Mind you, there's a difference in being cultured and being obnoxious. Unfortunately, most of us have been obnoxious. I may be acting overtly sensitive because I belong to 'pull k is paar' and I find the discrimination highly offensive and personal.

Get over such mentality please!
https://www.facebook.com/mariam.mirza13/posts/10209688455168697
What's your take on this?
Read Also: 9 Types Of People I Saw On My First Visit To The Mahmud Hussain Library Of Karachi University