The crime rate in Karachi has reduced from an extreme level in the past years. However, it has still not turned down to zero yet as we still get to hear incidents of kidnapping, street crimes, and rapes. Among the others, another distressing news surfaced on social media. Three armed men kidnapped a young girl and shot her male friend on showing resistance.
This happened last night in Karachi's District South posh locality, DHA. The boy Haris Fateh and girl Dua Nasir Mangi are students of IoBM. They were walking by Chai Master Bukhari located on Khayaban e Bukhari, Lane 12 in DHA Phase 7 when a car with four anonymous armed men stopped and kidnapped the young girl Dua, also shooting Haris during it. The shot at her male friend has critically wounded him. Initially, he was taken to a nearby hospital but was later shifted to the Agha Khan Hospital.
This is the second major incident of abduction that took place in the same year in the same locality in the same manner. First was also a girl who was later released after her family paid a huge amount of ransom. However, we get to hear horrifying abduction stories of women every often and it's alarming.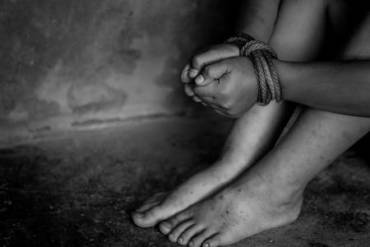 Police Investigating The Case Of The Kidnapped Young Girl
An FIR has been registered in Darakhshan Police Station by the name of the father of the wounded boy. The report is issued under the charges of abduction and attempt to murder. In progress of the case, CCTV footage has been acquired where Dua and Haris can be seen walking on the side of the road and getting shot and kidnapped.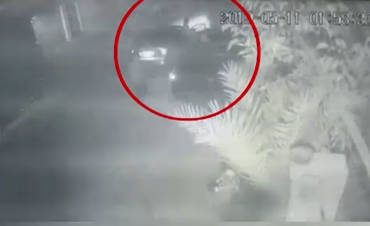 Haris's father also revealed that Haris had gone out with his friends. Later, he received a call from his son in which Haris informed them about his condition by himself.
"I was engaged in the conversation with my son, distraught and worried when someone took his phone from him and told him that he was severely injured and bleeding and they were taking him to a nearby hospital," said Haris's father.
Senior Superintendent Police (SSP) South informed the media that the case is being investigated and statements of the witnesses are being recorded which include a rickshaw driver who has said to have seen the whole incident. The police also informed that citing the financial condition of the girl, they don't believe it to be an abduction for ransom.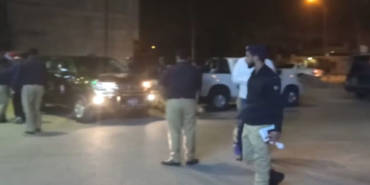 However, a special investigation team of police is operational to recover the abducted girl. They are trying to trace down the car in which Dua was kidnapped. It was a grey four-year-old model car.
Social Media Spreading The Word
The young girl's sister posted this news on social media seeking help from the public in getting a whole perspective on the incident in order to catch the culprits as soon as possible.
"My little sister Dua Nisar Mangi has been kidnapped and now missing, and I request you all to spread this news as far as you can. If you know anything or any detail about Chai Master Bukhari or any news regarding Dua's hangout in that place, please let us know. It's urgent. I want you all to spread this news as possible."


Her extended family and other people have also been sharing the message to get the news across as many people as possible.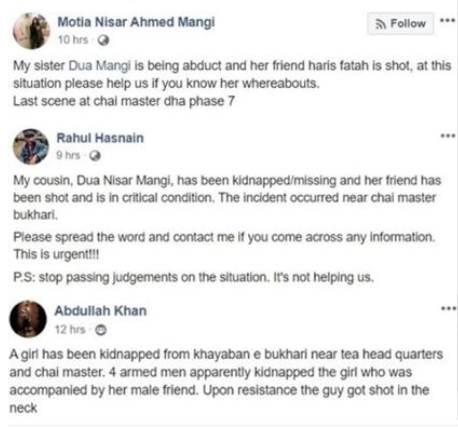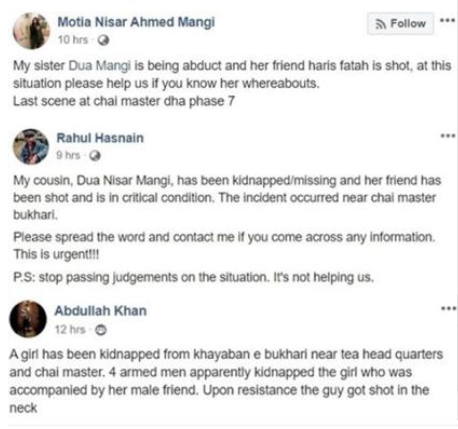 Sindh Inspector General of Police (IGP) Dr. Kaleem Aman has also taken notice of the incident and has demanded an initial report from the SSP South, Sheraz Nazeer.
CCTV footage has been revealed; With an additional clue of a man name Muzaffar behind the kidnapping.
Haris and Dua can clearly be seen walking in Defence and the footage changes to the car that kidnapped Dua. Moreover, it can be seen that she momentarily shows resistance and tries top open the door but it is closed shut; with Haris shot and wounded, the car speeds up and speeds away with Dua.
Moreover, another clue that has been revealed is there might be a possibility of a man named Muzaffar's involvement behind the kidnapping. It is being reported that he met Dua when she was in the US and originally belongs from Lahore. In addition, Dua's parents suspect Muzaffar since they informed that upon her return to Pakistan, she started ignoring him. However, nothing has been confirmed by the police, as they are still investigating. As for Haris, he is in critical condition and recovering.
Have something to add to the story? Comment below.