While the restaurants might look as clean as you would expect one to be at a busy hour, you never know what goes behind the closed doors of the kitchen. Never let the polished tables and floor fool you into thinking that the restaurant is high on hygiene.
Many incidences have come to light related to mismanagement and lack of hygiene when it comes to fast food restaurants, as well as fine dining places. You will be surprised to know the amount of work some creepy insects do at these food joints.
Yesterday, was yet another busy day for cockroaches, as one was found in a Subway sandwich, resting over a slice of cheese. Nothing satiates a cockroaches' hunger like scrumptious restaurant food. More so, it seems that they have a particular liking for Subway. No kidding!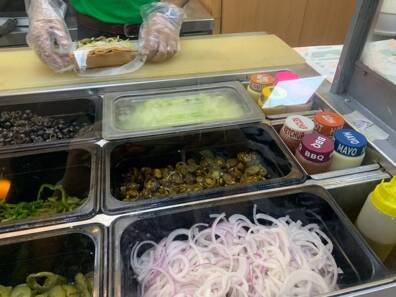 For people contemplating whether Subway is healthier than other fast food joints or not- first of all, know that Subway is still fast food. Let's end the debate here. It is still unhealthy. Second of all, let alone healthy or not, is it even safe to eat in the first place? How about you look into its hygiene management?
The video that you are about to see will show you an international sandwich chain that is not only a pioneer in their genre of food but also rakes in millions of rupees in profits. Be that as it may, even they have failed to ensure the very basic need of any restaurant business.
Is cockroach an add-on at Subway now?
Well, with the number of complaints that have piled up regarding Subway sandwiches having cockroaches in them one would not be surprised to find out that it is actually their secret ingredient! Or maybe an add-on? Whatever it is, we are certainly paying for it.
Subway has gained legions of fans for its affordable submarine sandwiches and a huge range of fillings. Yesterday, a Facebook user shared a review of the recent experience she had with the Gulistan-e-Jauhar branch of Karachi.
Here is a video for you to witness it!
As you can see for yourself, her sandwich had a cockroach sitting on the slice of cheese. According to the girl, she tried to reach out to the respective outlet. However, there was no response. Subsequent to this, the consumer took it to social media to alert others.
People spend thousands of rupees on food. In fact, they even bring their children to eat at these places, yet there is no assurance of quality.
This is nothing but a health code violation. Taking your own consumers for granted? What a shame! It is also worth mentioning here that this is not the first time a cockroach has been found in an eatery. Some very high-end restaurants have also been in the same boat more than often!
What do you think of this story? Let us know in the comments section below.