Poverty is a global challenge. It is one of the biggest challenges by many under-developed countries across the world. This is because the world is full of people living below the poverty line.
Pakistan too hosts its share of the pie in the world's multidimensional poverty. Nearly 25% of the country still languishes in abject poverty. Moreover, many children are forced into paid labor as they have to help their parents to cover their household expenses.
An example of children helping their parents by doing labor was recently evident in Pakistan. A girl was seen helping her disabled father to drive his rickshaw.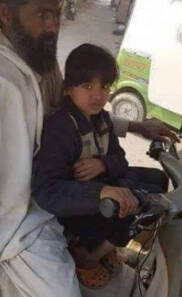 The incident was revealed by a man in a Facebook post. The individual said that he decided to travel in an auto-rickshaw. When he got in the auto, the man saw that there was a little girl in the driver's lap.
He thought that maybe the girl insisted that she wanted to go with her father or walk with him. However, when the rickshaw drove off, he saw that the girl was providing race to the rickshaw and her father was holding the steering wheel from the other side and telling her something.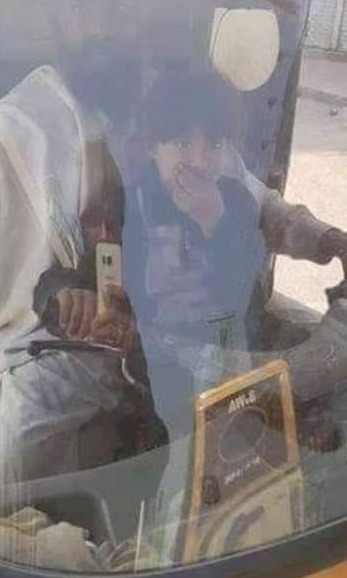 The man kept listening to them. After reaching the destination, he asked the rickshaw driver if his daughter is working with him. The rickshaw driver said that he was disabled with one arm. As a result, he and his daughter both drive the rickshaw together.
He does not like his daughter cleaning someone's house. And he does not want to be a beggar. As a result, he and his daughter are driving the rickshaw together. The auto-rickshaw driver said that he was thankful to Allah that he was able to work. Moreover, he and his family are living a good and respectable life.
Below are the details of the Facebook post.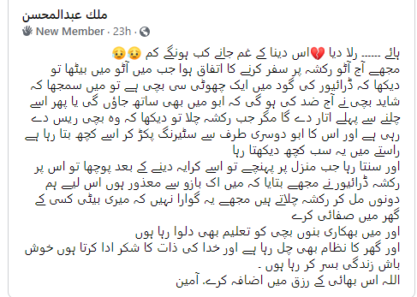 Rampant issue of abject poverty in Pakistan
Poverty has been a recurring issue in Pakistan since its independence in 1947. According to a report by UNDP in 2016, nearly 39 % of Pakistanis live in multidimensional poverty. Poverty in urban areas is 9.3% as compared to 54.6 percent in rural areas.
Due to this deprivation of basic necessities which is mostly in rural areas; almost 75% of the total children population is involved in child labor. In order to fulfill their needs parents send their young children to work even on low wages to stay alive.
It is the role of the government and financially stable citizens to help these deprived individuals. If someone is financially stable he/she can play his/her role by educating a child. In this way, a child can have a better future.
What do you think of this story? Let us know in the comments section below!