As it happened, annihilation, humiliation, and disaster for the German team in the FIFA World Cup 2022. For the second time in the world cup running, Germany got knocked out of the group stage despite winning the match and Japan topped the group.
Germany had the chance to through the round of 16 if Spain had equalized against Japan or defeated them.
Kaoru Mitoma's cutback for Ao Tanaka's tap-in happened just after the ball looked to have crossed the byeline.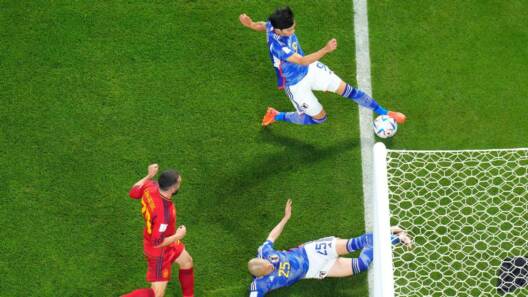 That controversial goal raised endless questions during the game, after looking deep into the situation cropping the image and close-up delivered a decision in favor of Japan.
Right there, things turned upside down for the German side and didn't go well per the plan.
Germany Out Of World Cup 2022
Germany initially got the leverage with one goal lead at halftime, but tension raised for both Germany and Spain. In the second half, Costa Rica equalized; in that scenario, they were second in the group stage.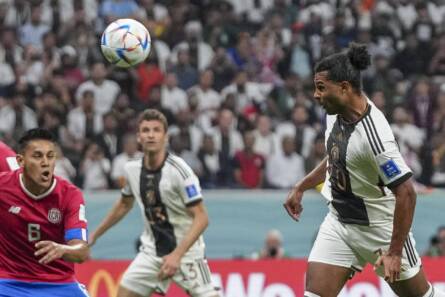 But Germany managed to score a few more goals till the additional minute and was hoping Spain to equalize against Japan.
But Japan defended brilliantly, despite Spain having more possession but couldn't manage to find the net and lost the game.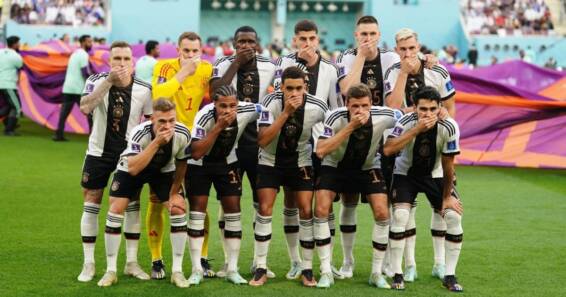 Germany's elimination gave fans a huge moment to enjoy because since the tournament began Germany was one of the hottest teams to challenge Qatar's rules and regulations.
Fans React To Germany's KnockOut
There's no doubt, the German team already grabbed everyone's attention before their first match and since then they were seen struggling throughout the tournament. Surely, the 2014 World Cup winner this time mainly focused on politics instead of football and it hit them hard.
Fans reacted to Germany's elimination and roasted them in every way possible.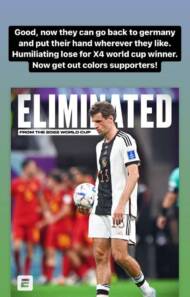 One fan posted an image of Thomas Muller on his story and wrote "Good, now they can go back to Germany and put their hand wherever they like. Humiliating elimination for the X4 World Cup winners. Now get out colors supporters."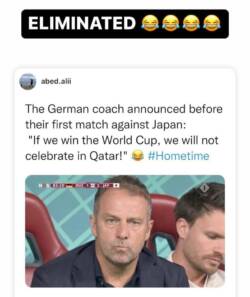 Another fan shared snap of a tweet, "German coach announced before their match against Japan: If we win the world cup, we will not celebrate in Qatar." #Hometime
Germany lost their first match against Japan and stunned the world with its performance. Now both Japan and Spain qualified for the round of 16.
What do you think of the story? Tell us in the comments section below.