Did you say there can be no fun during the ongoing pandemic? Well, Garena Free Fire knows the outer world is closed due to COVID, and this is the reason why it has come up with a virtual alternative for celebrating friendship.
The mobile game has introduced its 'Dosti Yaari' campaign this Ramzan which is about celebrating friendships with friends through fun activities.
The campaign not only improves the strong connection between friends but it also engages them in a healthy fun competition. And, guess what, they can win huge prizes worth Rs3.5 million, too. Excited, already?
What 'Dosti Yaari' campaign has for you?
Here is a complete list of all the virtual events included in the campaign, and everything local gamers should know about them:
Free Fire night matches that will keep you entertained till Sehri
The Free Fire night matches run until sehri. They include a unique one-hour custom room card. It allows one to play with up to 50 friends at the same time. Now, the custom room card is usually not available easily or given for free.
The matches take place every Friday/Saturday and Saturday/Sunday night starting from 9pm till 4am on all servers.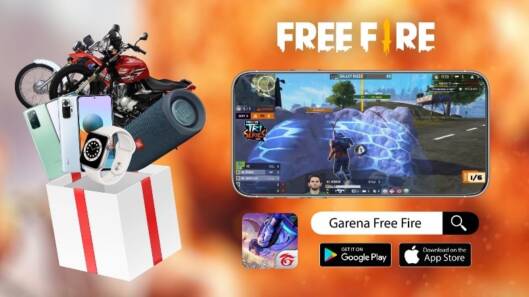 'Yaari Eidi' challenge will share prizes with your friends
Now, how cool is this idea for celebrating friendship with free fire?
Free Fire's Yaari Eidi challenge will take your best friend to shopping and there, they will get a chance to win amazing prizes for both yourself and your friend.
Here's how you can take up the challenge:
Record yourself buying Eid gifts for your friends
Upload the it on social media platforms
Tag Free Fire Pakistan on your post
Set post visibility to public
Use the campaign hashtags #FreeFire #FreeFirePakistan #FreeFireDostiYaari and #YaariEidiChallenge.
Easy-peasy!
Lucky winners will get:
A summer trip to the Northern areas (x4)
Xiaomi Redmi Note 10 Pro (x4)
Rs5000 Eidi (x20)
Balochi Waistcoat (x30)
Wait there more!
Zair from 'Kashmir the band' also couldn't help partaking in Free Fire's 'Yaari Eidi' challenge. He took all his band members to shopping, and the boys had a blast!
Watch his vlog to see how it went:
Guys, the competition has started on May 3, and it will end on May 12. So, what are you waiting for?
'Free Fire Apna Ramzan Show' will keep everyone entertained
Garena Free Fire is also introducing a fun-filled game show during Ramzan and famous vlogger Ramish Safa is hosting it.
The show is being aired on Saturday at 9pm and welcomes a new guest every week. You will be happy that content creators like Junaid Akram and Akbar Chaudhry are already on that very list.
Check out these episodes of the show:
What else the show has for you?
The show is going to have electrifying games with exciting prizes at the end of each segment.
Here's what the rundown looks like:
Eidi Hogi kis ki – The Lucky Wheel
United 70CC motorcycles, JBL Flip 5 Bluetooth Speakers, Razer Hammerhead Wireless Gaming Earphones, and a lot valuable in-game items as well!
Free Fire Mahaireen
In this segment, the host will ask three questions about Free Fire. Questions should be answered within 24 hours to win, well, more prizes.
The biggest prize – 3 Razer Hammerhead Wireless Gaming Earphones – will be given to each of their first 3 viewers who answer all questions correctly.
From the 30 total winners of the Mahaireen Q&A rewards segment, the top 3 will get Razer Hammerhead Wireless Gaming Earphones. Meanwhile, the next top 10 will get wireless power banks, and others will get cellphone cooling and gaming pads. WOW!
As a surprise, Free Fire upgrades rewards regularly. For instance, in the first episode, they gave away 3 sets of Cougar's wireless gaming earphones worth Rs11,000 each as the top prizes. However, from episode 2, they are now giving away 3 Razer Hammerhead Wireless Gaming Earphones worth Rs19,000 each to the top 3 winners, and that too, per week.
The segment takes place at the end of the show.
Khel Ka Maidaan
This show will have lots of fun and, of course, exciting games. Yes!
Once done with a little chit-chat with the guest, the host will play games in this segment thrice in each episode. The games include 'complete the sentence' and 'guess the item' using interesting clues.
Wait, we have more…
All the upcoming episodes of the show are going to have more grand prizes. Such as:
Samsung Galaxy S20 FE
United 70CC (x3 every week)
Redmi Note 10 Pro (x3 every week)
Razer Hammerhead Wireless Gaming Earphones (x3 every week)
JBL Flip 5 (x3 every week)
For more episodes, stay tuned to Garena Free Fire Pakistan's official YouTube channel.