A massive container ship blocking Egypt's Suez Canal for nearly a week has been partially refloated. The Suez Canal Authority (SCA) said on Monday. It raised hopes the busy waterway will soon be reopened for a huge backlog of ships.
The 400-meter (430-yard) long Ever Given became jammed diagonally across the canal in high winds last Tuesday. It halted shipping traffic on the shortest shipping route between Europe and Asia.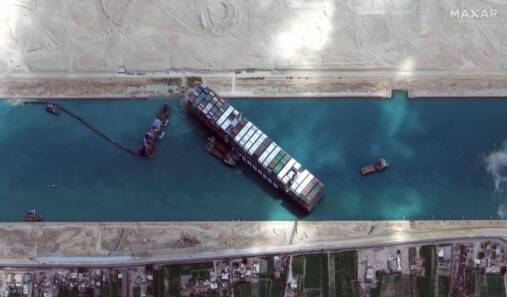 After further dredging and excavation over the weekend, rescue workers from the SCA and a team from Dutch firm Smit Salvage worked to free the ship using tug boats in the early hours of Monday, two marine and shipping sources said.
Meanwhile, further tugging operations would resume once the tide rises later on Monday. Marine traffic through the canal will resume once the ship is directed to the lakes area – a wider section of the canal.
Twitter has better & 'evergreen' solutions
Twitter has a solution for everything! It has offered some unique or downright crazy plans in the shape of funny memes to open one of the most crucial waterways in the world. 
Big backlog!
At least 369 vessels were waiting to transit the canal, including dozens of container ships, bulk carriers, oil tankers, and liquefied natural gas (LNG) or liquefied petroleum gas (LPG) vessels.
High pressure water would be injected under the bow of the ship to remove sand and clay but if that was unsuccessful, containers might have to be removed from the ship, which would cause a considerable delay, he said.
Meanwhile, a source involved in the salvage operation told Reuters they were re-ballasting the ship and expect that with a favorable tide, cargo will not need to be removed.
What do you think of this story? Let us know in the comments section below.