Last night was considered one of the darkest nights in Pakistan. At the midnight stroke, Imran Khan fell off his power through a vote of no-confidence, becoming the first prime minister in Pakistan's history to have been outcast by a parliamentary revolt.
Almost 174 lawmakers have supported the joint opposition's no-confidence motion. Everyone felt the night's sadness roaming all over Pakistan, the outcome shook the entire political side of Pakistan.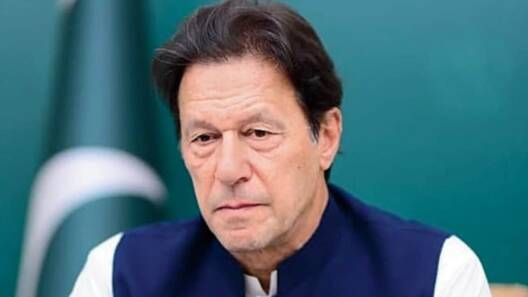 Imran Khan faced heavy betrayal from his allies who joined the hands of opposition parties.
In his final moments, former Prime Minister Imran Khan's members paid tribute to him, vowing to fight along his side "for as long as it takes." Celebrities have also joined the hands, penned down heartfelt notes knowing that Khan Sahab's term has come to an end.
Celebrities shared their thoughts on the situation and raises the hope
Actor Armeena Khan tweeted a prayer, "May God protect Pakistan and its loyal citizens from darkness and the forces of evil that are about to consume it once more. Ameen."
She couldn't hold back her emotions, she was unable to fall asleep, she took to her Insta Stories to add, "Dil thora toot sa raha hai. Aesa lagta hai jese kuch qeemti si cheez kho di (My heart is breaking a little, it feels like we've lost something very precious)."
Veteran actor Samina Peerzada shared, "This is not the end, Imran Khan will return with more power and greater resolve. He will not give up and neither will we. We share a great bond. Love for Pakistan."
In another tweet, she thanked the former prime minister for "waking up the nation," writing, "Imran Khan, humain is lambi neend say jaganay ka shukria. Humnay is political theatre kay saray chehray jan liay hain pehchan liay hain (we have learnt and memorized the faces behind this political theatre)."
Actor Humaima Malick called it a "dark day" while Aiman Khan shared a post hailing Khan as a "true leader."
Saddest & dark day
Maya Ali also jumped into the banda wagon and termed today the "saddest and a dark day in Pakistan's history." She wrote, "All we needed was some patience, unity, and belief. We have lost a gem, a true politician and honest prime minister.
I salute Imran khan that he tried his best and fighting for the sovereignty of Pakistan till the last moment. Thank you, kaptan. I know you will come back stronger. Once a leader, always a leader."
Shaan Shahdi has always supported Imran Khan from day one. He also penned down, "Imran Khan, your journey as a prime minister was phase 1.
But your journey as a great leader has started now. The hardships will be your medals, the negativity you bare will be your scars of war. This nation needs you. Don't give up on us, don't give up on Pakistan."
YouTube star Zaid Ali T tweeted, "Today is a very dark day for Pakistan. We as a nation have lost our most valuable asset. I salute the courage of Imran khan for fighting till his last breath. He is an example of a true champion and leader. Well played, Captain."
His fellow friend, Shahveer Jafry wrote "Khan fought alone. I salute him and thank him for that he tried his best to save his country."
From Junoon to Nadeem F Paracha
Junoon guitarist and Imran Khan's loyal supporter maintained, "174 Votes, 14 parties, five judges, 90% of anchors, so democratic. It took all this to defeat one Imran Khan and he still rules the hearts of the majority."
Responding to a famous author Nadeem Farooq Paracha, Designer Khadija Shah tweeted "If you had a conscience, you would be concerned too.
Instead of this immature tit for tat shitty statement." Paracha was referring to the individuals who had been "applauding and rationalizing harassment of activists, journalists, and campaigns of character assassination during the ousted regime."
Actor Gohar Rasheed pointed out, "Aaj Imran Khan ka imtihan khatam hua or opposition ka imtihan shuru (Today Imran Khan's test has concluded and the oppositions have only begun)."
Zara Noor Abbas held, "He fought and fought hard without backing down. And that's what a true leader does."
Yesterday, Quratulain Baloch asked the people to come to protest against the decision and show their support.
What do you think of the story? Tell us in the comments section below.