Frieha Altaf, a renowned model, and celebrity received a heap of backlash after her Instagram stories went viral. Basically, she was at an airport and made stories of mocking how other passengers were dressed for boarding their respective flights.
It caught people's attention and took no time to spread everywhere. Being a celebrity, one can never know about one's actions going down for the worst possible sake and Frieha Altaf kind of faced a similar situation. Thereafter, people swung in a debate whether she was right to mock and question other people's choice. Receiving a buttload of criticism was one thing, there were many who thought it was some sort of a publicity stunt by the celebrity to stay relevant.
Whatever she really meant, it did not go well…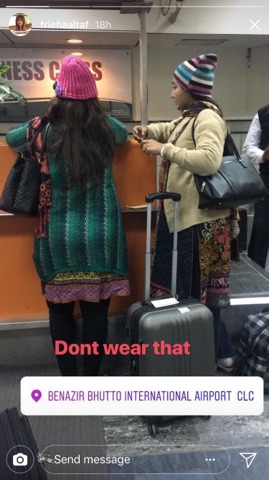 The news has been a hot topic for quite a while now and obviously, the insane backlash she received has compelled Frieha to come clean and apologize.
Frieha Altaf issued an apology in the following tweet:
Hello everyone. Im sorry if i have inadvertently hurt anyones https://t.co/BdCwfA1tjq was not my https://t.co/dWUskrniwP fashion we comment on clothes all the time and ive never had such an adverse reaction.Ppl take pics of me all the time put on social media n commented on them.

— Frieha Altaf (@FriehaAltaf) February 6, 2018
She further added that she "met" the person whose pictures she took online
I did not mean to hurt anyone's feelings i apologise. I met the person we took a selfie together so i wasnt invading anyones privacy. Hope this clarifies my position. Love to all of you. Frieha

— Frieha Altaf (@FriehaAltaf) February 6, 2018
The last bit where she mentioned that she had met the person, I mean, why would she still post pictures of them if she had been acquainted already?
It goes without saying but looks like Frieha Altaf had little idea about this would go. What do you guys think?