French President Emmanuel Macron has "attacked Islam" by encouraging the display of cartoons depicting the Prophet Muhammad (PBUH), a protestor threw an egg on him and the video went viral.
He recently paid tribute to a French history teacher. He was killed to revenge the use of cartoons depicting Prophet Muhammad (PBUH) in a class on freedom of expression.
Muslims see any depiction of the Prophet Muhammad (PBUH) as blasphemous. However, Macron has called the teacher a hero.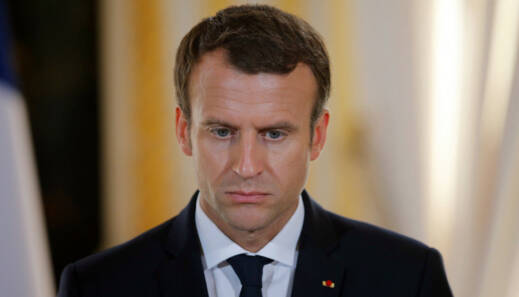 Anger in the Muslim world
The Muslim world is now fuming with anger. Moreover, many countries are boycotting France and its products.
Saudi Arabia has condemned the cartoons. The country also rejected any attempt linking Islam with terrorism. Meanwhile, Pakistan has also slammed France.
Prime Minister Imran Khan said, "Sadly, President Macron has chosen to deliberately provoke Muslims…through encouraging the display of blasphemous cartoons targeting Islam and our Prophet PBUH."
Meanwhile, many other Muslim countries including Iran have recalled their ambassadors.
Moreover, Turkish President Recep Tayyip Erdoğan said Macron needs "mental treatment" over his attitude.
"What is the problem of this person called Macron with Muslims and Islam? Macron needs treatment on a mental level," Erdogan said in a speech in the central Turkish city of Kayseri.
Does macron get egged in a viral video?
Meanwhile, a viral video is being circulated on social media where a man in France is pelting an egg on French President Macron. Netizens are saying someone has taken perfect revenge from the French president by egging him. However, the truth is, the viral video is old.
Watch the video here:
The egg pelting incident occurred in 2016. Macron was then France's economy minister. He was pelted with eggs after a strike against labor reforms disrupted rail services. Macron was splattered on the head when members of a trade union cornered him in Montreuil.
Anyways, social media users, particularly Muslims, are sharing the video amid the entire cartoon issue. According to them, he deserves this!
Meanwhile, a resturant in Kuwait…
Muslims across the world are hating Macron for his anti-Islam comments and he is surely feeling the heat too.
Pakistan's parliament has also passed a resolution urging the government to recall its envoy from Paris over the publication of blasphemous cartoons. It is high time that Macon must say SORRY to the Muslims.
What do you think of this story? Let us know in the comments section below.