The American rapper, singer and songwriter, Karim Kharbouch or French Montana is a Moroccon immigrant in the United States. From starting as an underground artist to becoming the founder of the record Coke boys, French Montana has lived a hard life. On his way up, he has also been a part of numerous controversies.
The rapper suffered from a shooting incident in 2003 where a bullet struck him in the head later revealing that he was set up for it by someone close.
He even got accused of offensive misconduct by several women while also supporting R Kelly in a statement who got charged for forcible crimes.
Says a lot about him!
In an interview he had after his most famous release Unforgettable, Montana said that the Internet keeps him from trying to spread love his own way. This statement was in response to the controversy on the video of his hit when he gave inappropriate remarks to a black woman. "Dusty Rusty —" were his words.
Also Read: The Movie Spider-Man : Far From Home Will Have A Hijabi Character!
However, no matter how many times we've seen him disrespecting other women and coming up with an innocent statement he never calls it quits.
SO, he once again manages to get himself caught in yet another controversy. Well, this is a BIG ONE. If he was trying to spread love in his own way again, the internet actually hated it!
French Montana released the Album cover of his upcoming release. And oh boy isn't it the most offensive cover we have ever seen!
Just the sight of it feels haram!
And so it wasn't long that the reaction of his followers started pouring in the comments. His post just took minutes to trigger his audience. Whether Muslim or Non-Muslim, they were really pissed at his insensitive attempt of attention-seeking for his new Album.

Why wouldn't they be?
Disgracing a religion is one thing you should never do. It was extremely disrespectful to see the way he portrayed hijabi women sitting beside him in those red boots!


He even got himself called 'an enemy of deen'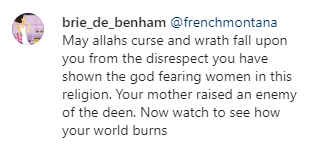 We're still wondering what good would he actually try to put in his justification for making this disrespectful move this time. And what does his caption even mean? You can bring people to your own world? What world Mr? What are you aiming here? No good.

His followers thought that his post is trying to manipulate hijabi women and dragging them in the filth.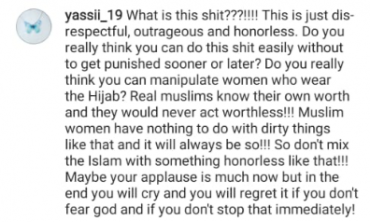 People are even warning French Montana of the consequences of this post

Some of them are so provoked that they are ready to start a movement against him.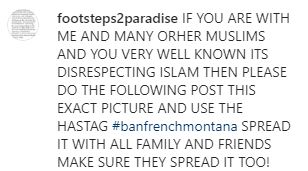 He released short clips from his video in the following posts and they were so disgraceful that you can't even watch them till the end.
This world has become so insensitive about religious beliefs thinking they can hybridize any culture any religion they want so that it fits in the modern time. While they should know you never mix the sacred with the filth.
Well, people better stop messing because they might enter into the wrong zone and hurt their reputation. Stay safe!