France is having a difficult time dealing with the hate it is getting for insulting Prophet Muhammad (PBUH), and rightly so. One must respect others and then expect others to respect them. Recently, France burns as Pakistan and Turkey grilled President Macron for disrespecting Islam.
After Prime Minister Imran Khan and Turkish President Tayyip Erdogan grilled French President Macron, many local ministers are burning. One of them is Interior Minister Gerald Darmanin of France who burns after Pakistan, Turkey and the Muslim world united to grill Macron.
Darmanin hit back at Pakistan and Turkey and told Islamabad and Ankara not to "interfere in France's domestic affairs".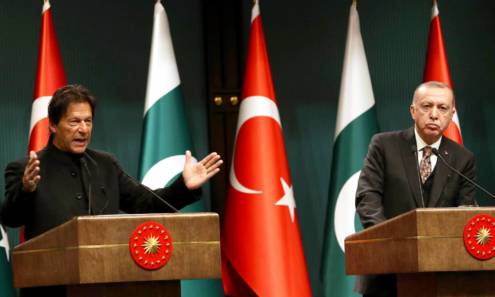 He was referring to PM Imran and Erdogan's criticism of Macron accusing Muslims of separatism and supporting blasphemous caricatures.
"It should shock each one of us that foreign powers are meddling with what is going on in France," he told France Inter Radio. Darmanin added he was referring to Turkey and Pakistan.
Meanwhile, Pakistan and Turkish parliaments have passed resolutions condemning Macron's statements. They urged their governments to recall envoys from Paris.
PM Imran urges Muslim states to act collectively
Meanwhile, PM Imran has written a letter to the leaders of Muslim states. He has urged them to act collectively to counter the growing Islamophobia in non-Muslim states.
PM, in his open letter on Twitter, has talked about restlessness amongst Muslims as they see a rising tide of Islamophobia.
He said the statements at the leadership level and incidents of desecration of the Holy Quran were a reflection of this increasing Islamophobia.
The Muslim world is united against France. Many countries are also branding President Macron as a 'devil' for his anti-Islam comments.
What do you think of this story? Let us know in the comments section below.