Turkey continues to battle wildfires that broke out in 41 different areas recently, on the third day. Meanwhile, 31 of them have been successfully brought under control so far. Forest fires in southern Turkey have caused at least three deaths and more than 100 injuries, according to state news agency Anadolu.
A wildfire that broke out Wednesday in Manavgat, in Antalya province, and was fanned by strong winds and scorching temperatures, was largely contained, Agriculture and Forestry Minister Bekir Pakdemirli said. However, another fire that broke out overnight in Akseki kept firefighters busy. The Antalya region is a popular vacation destination for tourists.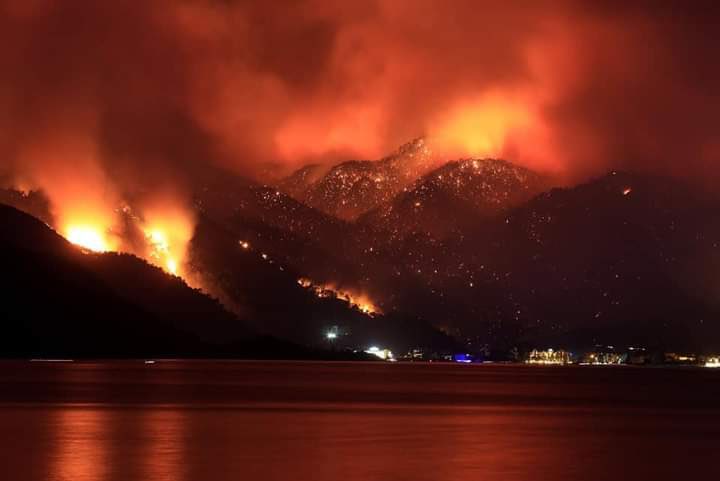 Three people lost their lives in those fires, and authorities evacuated nearly 20 neighborhoods or villages. Several other fires broke out Thursday, including in the Icmeler region, close to the resort of Marmaris, which briefly threatened holiday homes and hotels. A hotel in the Aegean beach resort of Guvercinlik, near the town of Bodrum, was also evacuated.
Pakdemirli said a total of 53 forest fires were reported in the country on Wednesday and Thursday. In addition to this, he stated that they brought most of them under control. They deployed three planes, 38 helicopters, and some 4,000 firefighters to battle the blazes, he said.
One of the dead from the fires in Antalya was an 82-year-old man from Akseki's Kepezbeleni neighborhood. The Turkish Disaster and Emergency Management Presidency (AFAD) said that in addition to the three dead, more than 112 people had been affected by the fires — including 58 who had to be hospitalized, mainly for smoke inhalation.
'Pray for Turkey'
Manavgat reportedly lost more than 1,000 farm animals, as well as 1,500 acres of farmland and 120 acres of greenhouses. Turkey's southern Mediterranean coast, known for its scorching summer heat, often causes wildfires. Additionally, officials have said the latest forest fires in Turkey are the biggest to date.
Last week, flash floods killed six people in the Black Sea region of Turkey.
A massive fire broke out last year at a market in the emirate of Ajman in the United Arab Emirates. The fire reportedly started in the new industrial area of Ajman. The authorities evacuated the medical center as a precautionary measure. Moreover, the flames had quickly engulfed the area. While the massive fire did not cause any deaths or injuries, parts of the market completely burned to the ground.
The blaze in UAE came a day after a massive warehouse explosion that sent a devastating blast wave across Beirut – one of the oldest cities in the world. Additionally, more than 100 people lost their lives, with nearly 4,000 injured.
Story Courtesy: AP News
What do you think of this story? Let us know in the comments section below.