The live audience is back with a bang, Premier League has officially welcomed fans with a warm heart to experience the real football game after more than a year.
Few fixtures held fans returned to Stamford Bridge, but one of the most iconic returns exhibited by the entire world was the Old Trafford.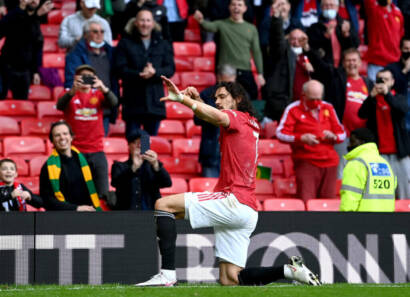 Last night Manchester United faced welcomed their fans and get united with them. Although the match ended with a 1-1 draw, last night it wasn't about winning it's about having the fans, cheering your name, and screaming with happiness.
Cavani Celebrated in front of Old Trafford Fans
The match was delightful, both the times played very well and looking at the possession United dominated. In the 15th minute, with a quick play and tremendous flick by Bruno Fernandes Edison Cavani shocked the Old Trafford fans.
Edison Cavani without wasting any time took a long shot chip over the keeper and scored a genius goal to give his team a one-goal lead.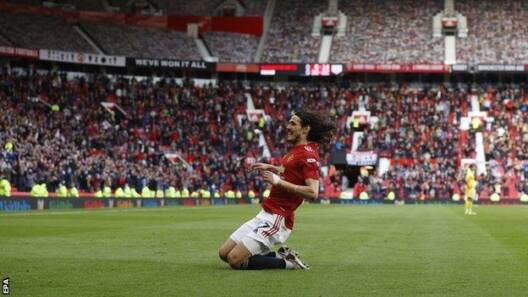 It was the moment, that every major sports news outlet shared, the way Cavani ran towards Manchester United fans and celebrated his goal with his fellow teammates.
In the second half, united players got various opportunities to increase their lead but missed numerous chances and couldn't stronghold their position.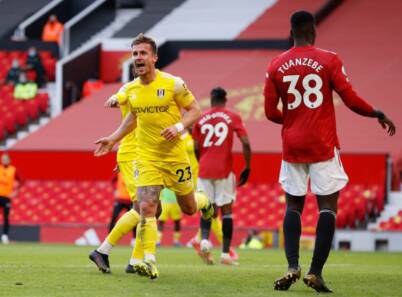 Solksjaer's side couldn't manage to keep their lead for too long, in the 76th minute Fulham recovered from the one goal down and Joe Bryan equalized with the free quick header.
Post-Match Managerial Talk: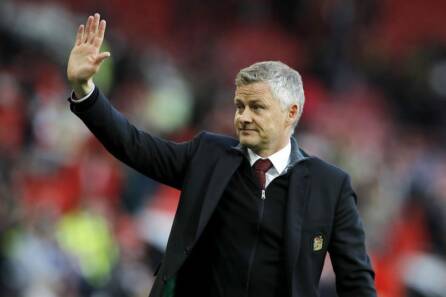 Olle Gunnar Solksjaer shared his thought on fans' return, draw match and Cavani's stunning goal.
"I think it might be a wake-up call because we tried to do the fancy stuff – the flicks, the extraordinary things, the things that pleased the fans.
"That's not what we're about. We should be more efficient.
"Have a look at Cavani, have a look at how he plays the game. Every single one of us looks at him.
"Back tackles runs, scores – there's no fluff. And we can't have fluff in a game of football."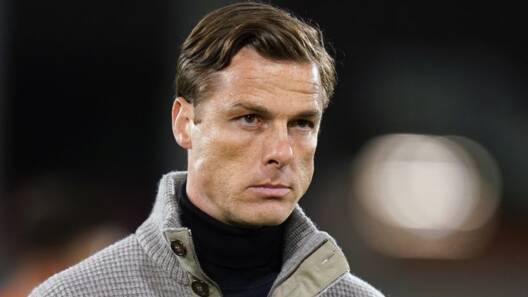 Not only that, but Fulham's manager also shared his views on that special night. "Our performance levels have been there.
We managed to put one in the net and defended pretty well. I understand we're judged on a win and a loss but in terms of the performance, it's been there.
When the sky sports reporter asked him regarding Cavani's goal he said, "I don't understand how it's not offside. The fourth official said if Fernandes hasn't touched it he's five yards offside.
I've looked at it back. I can understand if we didn't have VAR, I get that that goal can be given due to human error, but when you can slow it down and look at the angles you can see he's not touched it."
Players Stand With Palestine: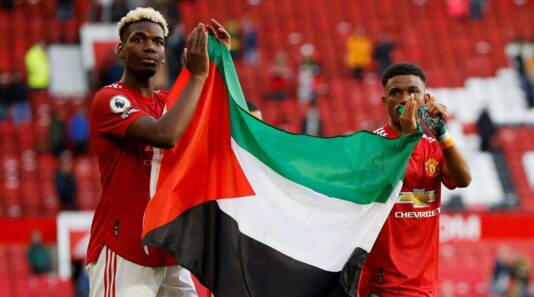 In recent English team matches, some of the players have shown their true support for the Palestine people out there. Last night when the match ended, Paul Pogba and Amad Diallo held the Palestine flag and marched in front of the fans.
To this, the manager Solksjaer said, "We have players from different backgrounds, different cultures, different countries and we need to respect their views if they differ from someone else's.
"If my players think about other things than football, that's a positive thing.
"We have seen that with some of my players before, that they do care. You see Marcus Rashford, for example, the difference he has made.
"So, no, we respect their right to have a different view."
Even Pogba also posted on his Instagram regarding the Israelis attacking innocent Palestinians. Apart from them, Leicester players Hamza Choudhury and Wesley Fofana also showed their support for Palestine when they won their first FA Cup final against Chelsea.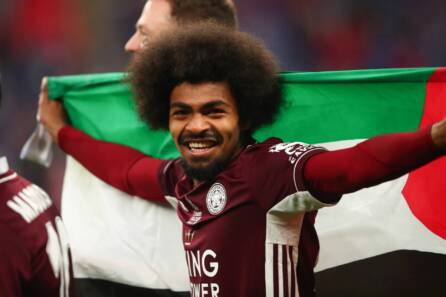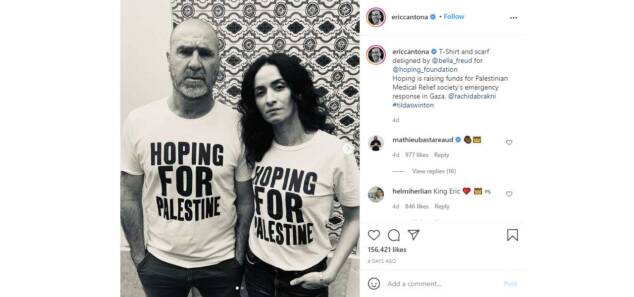 Many other footballers also came forward to support the innocent people of Palestine and tweeted on Instagram too. Players like Riyad Mahrez, Mohamed ElNeny, and even Manchester United legend Eric Cantona also posted pictures wearing a t-shirt in the support of Palestine.
Such support showcases that Football is not just a game as said before it's an emotion where every religious player plays and expresses their emotions regarding humanity.
What do you think of the story? Tell us in the comments section below.