As we approach the end of 2020, it's safe to say that it was nowhere near to what we expected in the beginning. Since the initial days of lockdown back in March, our economy took a severe hit, with many businesses shutting down, numerous people losing their jobs resulting in the rise of the unemployment rate. Our local restaurant industry was one of the most impacted industries to have suffered from the lockdown and restrictions.
In August, when the number of COVID cases started to decline, the lockdown was partially lifted, but as the second wave hit us, more restrictions were imposed since the number of cases started to rise. With these restrictions it became more and more difficult to carry out regular business practices, especially in case of restaurants where they could only serve for a limited time during the day and that too only outdoors, a facility not many could afford. As a result, leaving millions of people associated with the industry (restaurant owners, chefs, staff, vendors, waiters, guards) fighting for their jobs.
The industry was seen making various appeals to the government through protests outside Karachi Press Club and through social media campaigns. Soon after, a relatively newer yet aspiring player in the food delivery market, Careem was seen addressing the issue loud and clear on its social media assets with an initiative that took the industry by surprise.
Careem initially made an announcement that they are offering to reduce their commission on food delivery service to as low as 5%, given that it is further passed down to the customers in terms of deals and discounts to encourage them to order more. This was followed by a heartwarming video in collaboration with the restaurants. Have a look for yourself!
The video had an emotional appeal and requested customers to order as much food as they can in order to support the industry during these uncertain times. The striking thing was that the video promoted ordering food by any and all means, be it any food delivery app of preference, restaurant's helpline, takeaway or simply eating outdoors or in your car. Really… any food delivery app? That's a bold move!
The video message included some notable restaurant owners like Mush Punjwani from Coffee Wagera, Babar Nehal from Tooso, Mahnoor Allawala from Big Bash, Farooq Mamsa from Espresso, Mujtaba Mehdi from Pataka Boti, Raza Ahmed from Bamboo Union, Adeel Feroze from Kaybees, Saima Achria from Pan Asia/The Patio and Athar Sultan Chawla from Tao. The heartfelt message spread like wildfire all across social media and numerous facebook pages and people jumped on the bandwagon to support the industry in the time of need. Furthermore, the news media also reported on this occasion calling it a Food Delivery War .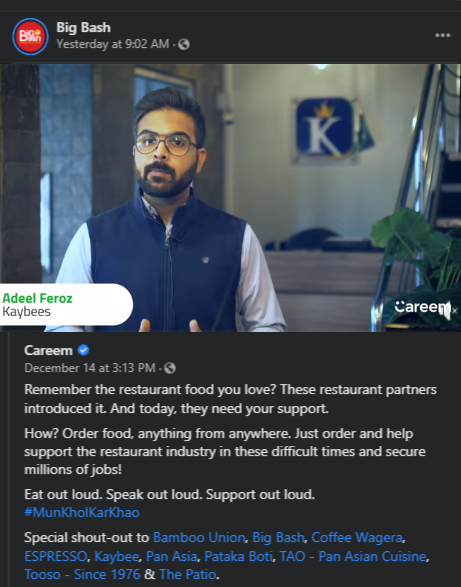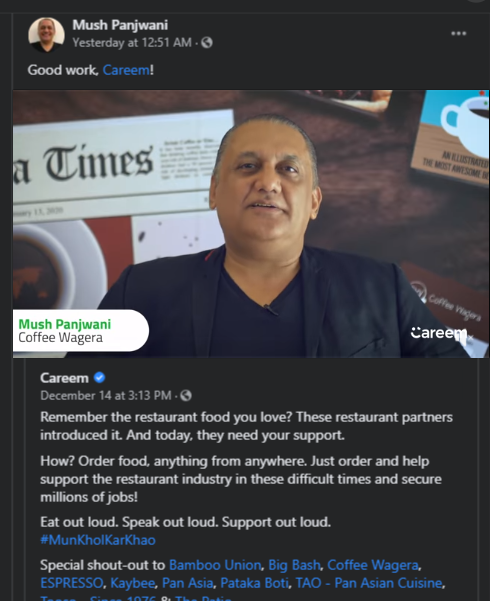 Soon after, before the hype could cool down, Careem released another videowith famous celebrities and social media influencers with the same appeal to their customers, encouraging them to order as much as they can. This time around, we saw faces like Sharmila Faruqi, Junaid Akram, Sidra Iqbal and Raja Kamran from the media industry as well as Nazihe Hussain and Asad Sheikh from renowned Facebookfood groups, SWOT and Foodies R US respectively.
We're still not quite sure if slashing commissions this early in their entry phase will make business sense to Careem as food delivery is one of their major verticals of the Super App.
Regardless, it is really comforting to see brands like Careem taking a leap forward in a mission to help our local industries and use their social media platforms for a greater good. This initiative gained quite some traction on traditional media as well, after the company issued an official press release saying that this is in line with Careem's pledge to support the restaurant industry, as promised by their CEO and Country GM, Zeeshan Hasib Baig earlier this year in his open letter.