UAE is home to 1.2 million Pakistanis out of which more than 400,000 are based in Dubai alone. Pakistanis make the third-largest population in UAE after Indians and Emiratis who need some help fixing country's consulate corruption. A lot of Pakistani-origin people are working or residing in the country for the past many years.
The Consulate-General oversees Pakistani interests in Dubai. It provides various services to Pakistani citizens situated in the emirate. It is also the largest Pakistani consulate in the Middle East. But over the last few days, Pakistanis have not been happy and need help with the country's consulate general in UAE due to the corruption.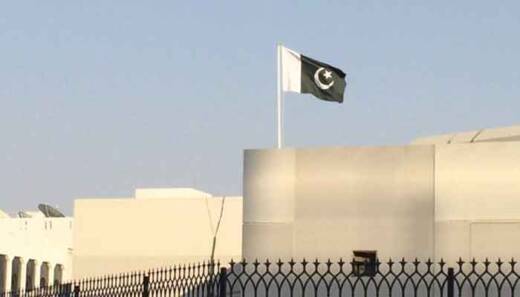 Pakistani expatriates in Dubai are complaining about the poor services provided by the consulate. One of the Pakistani expatriates living in Dubai said that services like paint renovation, ticketing machine and sitting arrangement are missing. To fix these services, the expatriate suggested to start a social media trend called #FIX_PAKISTANI-CONSULATE-DUBAI.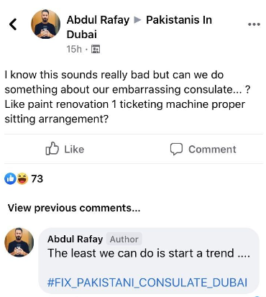 Another Pakistani complained that the embassy does not even have sufficient air conditioners for expatriates that visit the consulate.
A Pakistani citizen pointed out the fact that the Pakistani consulate in Dubai has sufficient budget to improve their services. However, they don't invest that budget appropriately. As a result, the citizens have to suffer. Another Pakistani replied that they need to raise their voice against this injustice.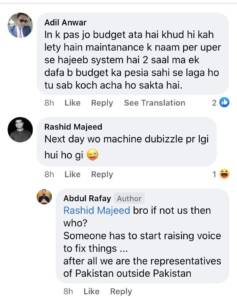 The citizens further demanded that there needs to be massive renovation in the consulate. The consulate is run with the taxpayers money and they deserve good services as a result.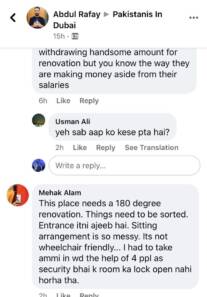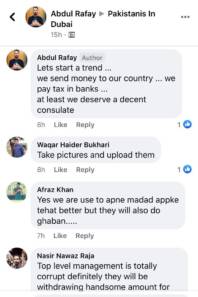 The appalling situation of the Pakistani consulate in Dubai
Pakistan has a vibrant expatriate community in Dubai. Many Pakistanis in Dubai are struggling as a result of the economic crisis due to COVID-19. Such a response by the Pakistani government further increases their frustration. Moreover, the lack of appropriate services at the Pakistani consulate in Dubai has further damaged our already tattered reputation.
Incidents like these leave our people abroad open to ridicule. It illustrates the corruption in Pakistan at the government level. It should be addressed by the higher authorities. This is an office run on taxpayer money. The incompetency in such an important institution that represents the country is a crime against the state.
What do you think of this story? Let us know in the comments section below!