In the recent controversy that erupted regarding famous film actress Humaima Malick and Pakistani product company, has taken another turn. FitFibre, the health company, rejected claims made by Humaima Malick and considered it as defamation.
FitFibre, a Lahore-based health company, was accused by Humaima Malick due to her sister's deteriorating health after using the company's weight loss products.
Humaima Malick's claim
Humaima Malick had posted on her Instagram feed and written: "I am just shocked where our society is going. I really want to tell the world what trauma our family is going through. As you all know that my sister Dua is a 22-year-old, healthy and successful mother of two. Yesterday she tried out the very first capsule on much persistence and the entire day she was in severe pain and ended up in the hospital."
FitFIbre's reply to the claims made by the actress
FitFibre denied the actress's allegations completely and made a public post on Facebook that said: "Recently there has been an Instagram and Facebook post put up by Dua Malik stating that due to her use of FitFibre she was hospitalized. We as a company take our integrity very seriously, which is why we are issuing this statement to clarify the situation and address what we feel is tantamount to defamation and cyber bullying,"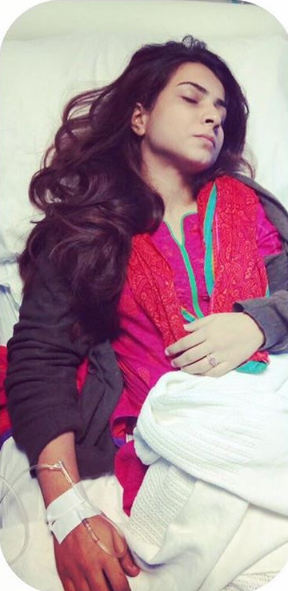 Source: Humaimamalick's instagram[/caption]
"At this point the terms were agreed on and Ms Malik was to put up social media posts and receive a 10% discount on the package. However, we did not make the sale as she did not follow through on the agreed terms. Nonetheless, since she was in constant touch about trying FitFibre and keen to try it, we chose to include her in our list of people of influence to whom we were gifting FitFibre for her try it too; it must be stated clearly we in no way were insistent that Ms Malik use the product nor did we link the gift to any kind of social media post we simply sent it to her, and have all the evidences via messenger to prove in a court of law," the post continued.
The company further claimed that Humaima's sister, Dua, had contacted them and complained of severe stomach pain, for which they had tipped Dua on how uncertain supply of water might be the cause of her illness.
After denying and rejecting the claims made by the sister, FitFibre wrote: "There is no proof that two capsules of FitFibre have caused any such effects considering the immense amounts of research that has been done regarding the product, the fact that it is a common supplement used worldwide and no such effects have been found to be caused by Glucomannan."
It doesn't matter where the controversy ends up after blowing out of proportion, one thing is for sure, modern day ranting and social media claims of defamation may backfire very quickly.