A video of Special Assistant to Chief Minister on Information Dr. Firdous Ashiq Awan and PPP MNA Qadir Khan Mandokhel has taken the internet by storm. In the viral video, the two can be seen berating each other on a TV show. Firdous Ashiq Awan and PPP MNA abused each other but a slap made the talk show situation worse.
The incident took place during the recording of a talk show hosted by anchor Javed Chaudhry. The video shows a heated argument between Awan and Mandokhel, who recently won a by-election in Karachi on PPP's ticket. In the verbal duel during the show, Mandokhel accused Awan of committing corruption.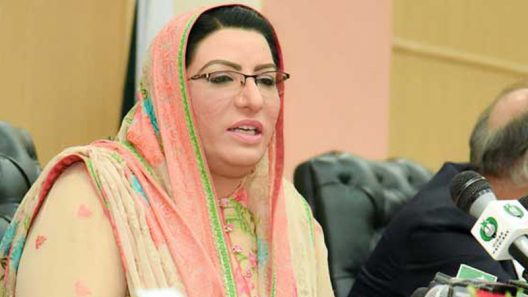 In their heated exchange, both politicians opined that the other was corrupt before Firdous Ashiq Awan lost her temper and slapped the PPP MNA during the talk show. The former information minister was also heard uttering expletives after hitting Mandokhel, who was trying to hold her hands back from further blows.
Check out the video here!
The clip went viral on the internet instantly and social media users condemned the demeanor of the special assistant. Here's what actually led to the slapping episode.
Later, in a tweet, Awan claimed Mandokhel used foul language which angered her. She alleged that the PPP leader used profane language for her late father and herself due to which she resorted to an extreme measure.
Video statement of Firdous Ashiq Awam
"During the talk show, PPP's Qadir Mandokhel threatened me. He insulted my late father and me by using abusive language. I had to take an extreme step in my defense," Awan tweeted along with a video statement. She said that after consultation, legal action will be taken against Mandokhel.
Meanwhile, the host Javed Chaudhry is also being criticized for acting as a silent spectator during the fight. Some social media users circulated memes targeting Chaudhry after the video of the fight before the camera surfaced online.
Blames falls on the host's shoulders
Firdous Ashiq Awan lands in hot water
Meanwhile, no statement has been made as yet by the PPP MNA.
It may be recalled last month Awan on Sunday paid a special visit to Ramadan Bazaar set up at Jinnah Stadium Sialkot to inspect the quality of food items. During her visit, Awan schooled Sialkot Assistant Commissioner (AC) Sonia Sadaf for failing to control the sale of substandard items in bazaars.
A dispute broke out between the two. Back then also Awan lost her cool. So much so that she started yelling at the AC for her negligence after hearing her arguments.
Earlier, Awan's unbelievable stance on harassment faced by women also ruffled the feathers of everyone. 
What do you think of this story? Let us know in the comments section below.