The core interest of Coke Studio Season 9, Momina Mustehsan has put the rumors of her broken engagement to bed. From last month, the social media was buzzing with the news of breakup with her fiance Ali Naqvi but Momina decided not to comment on it.
Yesterday, while the entire world of lovebirds were busy planning their schedules for meetup plans and sending love through every possible way (because of Valentine's day), Momina shared an image on her Snapchat account in which she discreetly informed about her marital status.
And after Snapchat, she has broken the silence on her Instagram account and openly spoke about her engagement.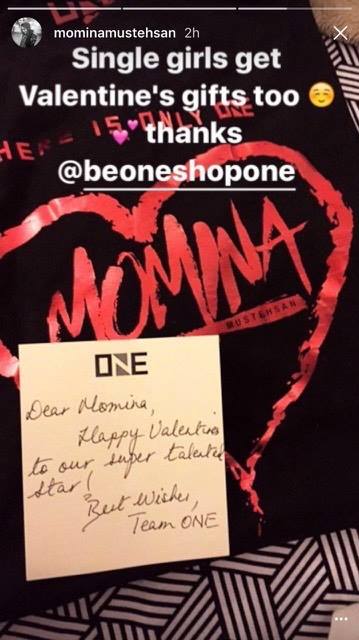 Previously, Momina Mustehsan also posted on Instagram to emphasize on her right of privacy.
Momina Mustehsan after her Afreen performance in Coke Studio Season 9, has become the talk of the town and one after one her activities were scrutinized by social media humorists. Recently, when the winning team of PSL Season 1 Islamabad United appointed Momina as their brand ambassador and she sang their anthem, "Cricket Jorray Pakistan" the Twitteratis went crazy over her performance.
And after her "single again post", Twitter was overflowing once again.
1. Prayers For The Brave Girl:
@MominaMustehsan You are very strong . God bless. #MominaMustehsan

— Faraz Hassan (@farazhassan01) February 15, 2017
2. Some Poetry Mizaaj Rakhne Wale:
توں اپنی محبت کی قیمت بتا…..!!!! ####
جان قربان کروں۔تو کتنا بقایا۔رہے گا….!!!!#####MominaMustehsan

— Awais Maher (@awaisafzal120) February 15, 2017
3. Breaking News!
جی ہاں، ميری منگنی ختم ہوگئی،مومنہ مستحسن مان گئيں!#GeoPakistan #MominaMustehsan pic.twitter.com/RAedRuGUkb

— Geo Pakistan (@geopakistantv) February 15, 2017
4. It Should Be Some Other Day, What Do You Say?
The news is '#MominaMustehsan picks 14 Feb to announce engagement bust-up'

— azhar khan (@Azharkh4) February 14, 2017
5. Point To Theek Hai Waise
Didn't she ask the media to stay away from her personal life. Why use the media now? #MominaMustehsan #Pakistani https://t.co/WSddxWIdkU

— Soumyadipta (@Soumyadipta) February 14, 2017
6. In Support Of All The "Singles"
Insan duniya mai single ata hai aur single hi jata hai.Relationships are just to keep us busy in tis life.I support single #mominamustehsan

— AK47 (@Aiesh_K) February 14, 2017
It is true that every person has a right to privacy including celebrities, but being a public personality, they should be tactful in dealing with those who drag their personal life in public.