The legendary and the iconic Bollywood actress who suddenly passed away a few days ago stunned everybody. Sridevi, the actress who was known for her years of work died due to cardiac arrest in Dubai.
Given her years of work which defined her existence in the film industry, Sridevi was the first female actress who worked for films of four different languages. She had to honor of working with every legendary male actor as well. Sridevi was on par and the work she leaves behind is an example of it.
The Funeral of Sridevi Took Place Yesterday
The actress passed away in Dubai. Flown in a private jet, Sridevi's funeral was filled with thousands of fans who bided farewell to the actress one last time.
Sridevi's Body Was Wrapped in the Indian Flag for the State Funeral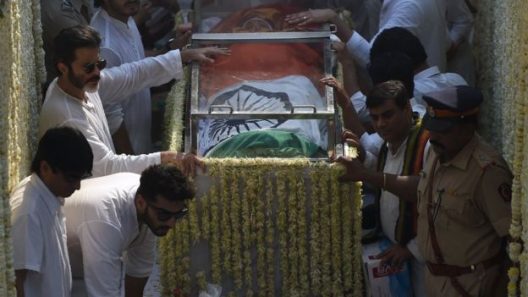 Inside the truck, Sridevi was lying in the serene, dressed in a South Indian vermillion, wearing gold and a necklace that displayed she died a suhagaan. 
Among Thousands of Fans, Bollywood Actors Were There to Bid Sridevi Farewell
In the course of her acting career, Sridevi worked in around 300 films. She worked with every prominent actor in the Bollywood industry. They were all there not just to say goodbye, but also to honor the timeless work of art Sridevi leaves behind.
How can one not just feel love & beauty & be grateful for a life that became a part of yours in some small way by making it prettier….isn't it just easier to feel love & give towards that life, even in death…the comfort of appreciation and gratitude.

— Shah Rukh Khan (@iamsrk) February 28, 2018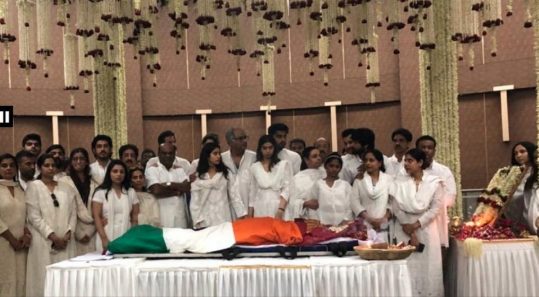 The media outlets managed to grab the picture of Sridevi, one last time!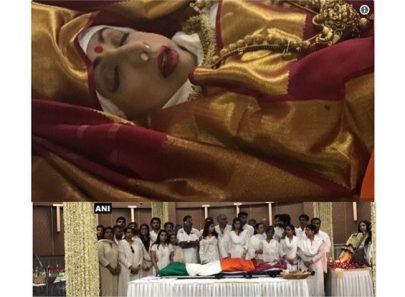 In this Heartfelt Message, Sridevi's Husband Said Goodbye to his Wife and his Friend
Statement from Boney Kapoor on #Sridevi. I hope we all abide by it and give family privacy to mourn this immense loss peacefully. Especially we in the media need to behave and not cause any harassment to them. ? pic.twitter.com/B9SmreOWZ6

— Aditya Raj Kaul (@AdityaRajKaul) February 28, 2018
Farewell, the legendary actress. You gave us one of the finest works to feast upon in your long gone memory. Sridevi's film with Shah Rukh Khan called ZERO was the last one she worked before she passed away.