With lots of going on in the political area in Pakistan, so many decisions are ready to disclose and in that entertainment lawsuits also piled up.
Sana Javed who a few months back, filed a case against those who defamed her with allegations and called out her for misbehaving with them.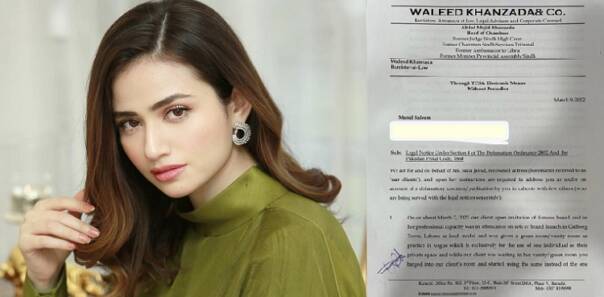 Yesterday, the head of the FIA's cybercrime wing in Sindh, Imran Riaz, took to Twitter to share the defamation case filed by Sana Javed against makeup artist Omayr Waqar, stylist Aneela Murtaza, and Model Manal Saleem has been closed.
Yes! You heard it right, according to the Imran Riaz due to a lack of evidence or say no evidence found of a planned smear campaign against the actor.
Result of Smear Campaign – Recap of the drama
For those who might don't know what exactly happened, let's take a brief recap. It all started when the model Manal Saleem shared her experience with the actor on her Instagram.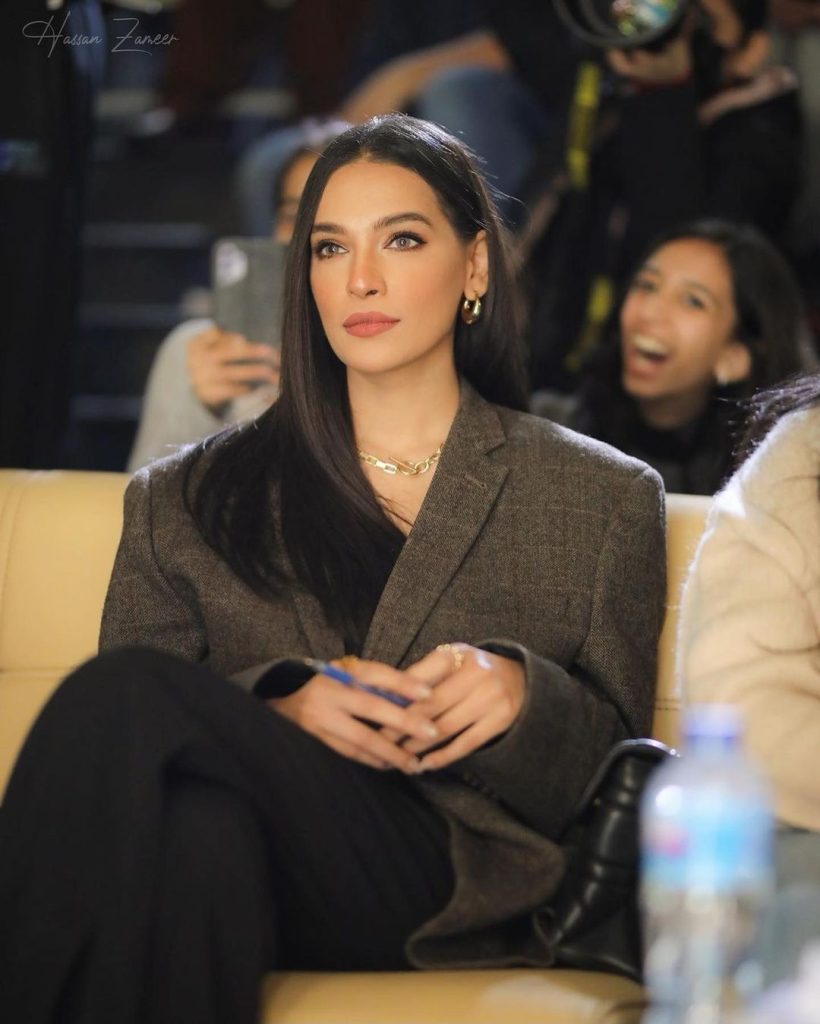 She wrote, "Requesting all the clients to not ask me to shoot with any actress/celebrity ever again. With their self-entitled attitudes, they think we are 'do takay ki [two bit] models'.
The audacity to say that on my face! Hum bhi kam krne atay hain, muft main zaleel honay nahi atay [We come here to work, not to be insulted for free]."
Sana Javed even sued Manal Saleem for Rs100 Million in defamation. Right after that, Aneela Murtaza also filed a lawsuit against Sana Javed for seeking publicity at her expense.
Then both Omayr and Aneela shared Manal's post. And wrote, "Guess who is she [Manal] talking about? P.S it's just one person, not all actresses are the same," but did not name any actor. Murtaza reposted both of their stories and wrote "Sana" in a thought bubble emoji.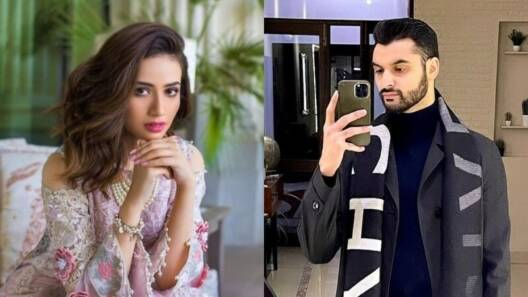 After that, makeup artist Omayr Waqar also jumped in to share his experience with Sana Javed. He wrote, "Aye Musht-e-Khaak actor had "torched" him for a simple rose-gold eyeshadow he had applied on her eyes during her nikah trials. She even refused to let him use the bathroom at the location and requested that the makeup artist must use the one across the street at a restaurant instead."
Rang Rasiya excluded Sana Javed from the Eid campaign
The allegations damaged Sana Javed's image, even brand Rang Rasiya released the statement "In light of recent allegations brought forth against Sana Javed, we at Rang Rasiya decided to disassociate ourselves from the concerned person who was before the main face of our Eid campaign."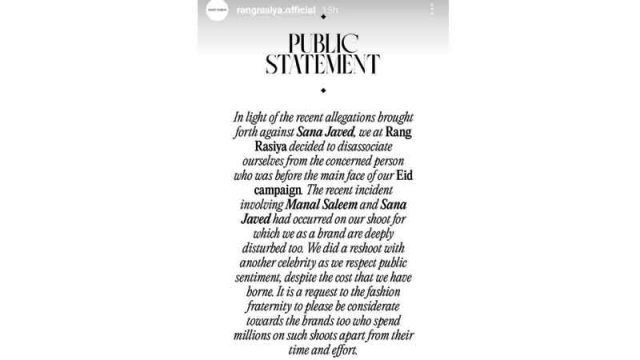 "We did a reshoot with another celebrity as we respect the public sentiment, despite the cost that we have borne. It is a request to the fashion fraternity to please be considerate towards the brands too who spend millions on such shoots apart from their time and effort," concluded the statement.
Sana Javed filed a lawsuit against Waqar, Murtaza, and Manal – but lost the case
Right after a lot of allegations, Sana Javed came forward, "In the past 72 hours I've been subjected to all sorts of lies and fabricated stories, bullying, hate speech and threats,"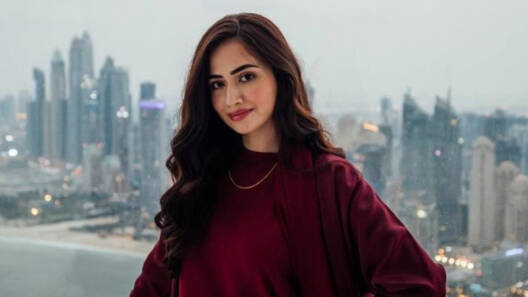 She then filed the case against the people who allegedly accused her, according to the legal notice argues that Javed had a following of 6.8 million on Instagram, and Saleem's account saw a 6,000-follower increase after her story was posted, and claimed that it illustrated that the move was "a publicity stunt to increase your following at the cost of our client's [Javed] goodwill."
But on Saturday, Imran Riaz head of the FIA's cybercrime wing in Sindh tweeted the result of the Smear Campaign case. He tweeted, "The complaint filed by Actress Sana Javed against her cyber defamation has been closed. The provided evidence was closely scrutinized by the legal team and the content found was about sharing of personal experiences of different coworkers while at work with Sana Javed."
Riaz continued, "The technical team also could not find any evidence of a planned smearing campaign against her."
What do you think of the story? Tell us in the comments section below.