Sindh Chief Minister Syed Murad Ali Shah on Saturday said that his government was planning to start a ferry service between Seaview and Manora.
The chief minister inaugurated 'Manora Waterfront Beach', a recently completed project worth Rs650 million in Karachi's Kemari district, in a bid to increase the number of recreational facilities in the metropolis.
The newly-developed beach is one of the most beautiful recreational places the government has developed to provide a safe, secure, and clean family recreational place for the people of this city said Shah while speaking to media at the inauguration ceremony.
"We are also planning to develop a jetty at Seaview to start a ferry service from Clifton area to Manora beach," he said.
The Rs650 million improvement of waterfront development at Manora beach project was launched through an annual development program (ADP) scheme. It has a parking area spreading over an acre. Additionally, it has a front structure of 7.91 acres with 29 gazebos and L-Shape benches along with tables.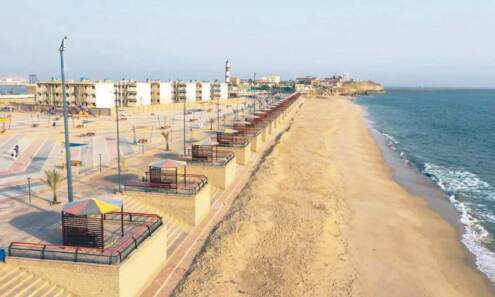 It also has dozens of Teflon sheds and 76 park benches. Moreover, a separate play area has been developed for children.
"The project is a part of an overall development scheme of Karachi and the construction of waterfront development provides for public recreational of Karachi," the CM said. "At present, the Manora beach is underutilized with a very low volume of visitors due to lack of facilities like sitting space, dining area, restrooms, shades, tidiness, etc."
He said the main attraction of Karachi is its beaches and coastline, which distinct the city from the rest of the country.
Manora Beachfront:
The CM said that due to the dearth of entertainment avenues, especially for middle and lower-middle-class families, people only rush to Sea view, Hawkes Bay, and other underdeveloped beaches.
"Since those destinations are just beaches and not developed thus they got stale, there is a dire need of some new developments to provide an area for public refreshment," he said.
The CM said that it would be the first developed beach in the city. In addition, he said that the proposed design had all the needs required for family entertainment in a secure environment. He also announced developing Allama Iqbal Park in the city's Gulberg area.
Read More: This Beach In Pakistan Glows Blue In The Dark And It's Something You Don't Want To Miss
What do you think of this story? Let us know in the comments section below.