Controversy has shrouded in all corners of social media ever since Meesha Shafi brought forward her claims regarding Ali Zafar sexually harassing her. The public is in a divide about the opinion and it has cast its shadow over the release of Ali Zafar's movie, "Teefa In Trouble". On Thursday, the movie starring Ali Zafar premiered in Karachi. It attracted a large crowd as well as a mob of people who led a protest against Ali Zafar and his movie.
Protestors gathered at Nueplex Cinema in Karachi against Ali Zafar and his movie
Khatam bardasht,khatam assault.Ali Zafar boycott.#BoycottAliZafar #BoycottTeefainTrouble

Posted by Ammar Khan on Thursday, July 19, 2018
They were constantly protesting. Chanting names and words against the movie and its release. They were urging people to boycott Teefa In Trouble, relating to the accusations laid down by Meesha Shafi.
In the midst of all, there were a number of celebrities attending the premiere with a large audience ready to witness the movie's first show in Karachi. Ali, Maya Ali and others were present there while protestors gathered around the site. Things got difficult to control and police were summoned. The protestors also complained of police brutality especially when some women got harassed and their posters were snatched away.
Protestors also complained about the police being bias in the matter, and not allowing them to practice their constitutional right of carrying out a protest against something they have a problem with.
Amid everything, Feroze Khan showed up and from there, it did not go well at all!
Feroze Khan interaction with the protestors present at Ali Zafar's movie premiere did not go well at all. Apparently, he showed middle finger to all the protestors and it just got ugly.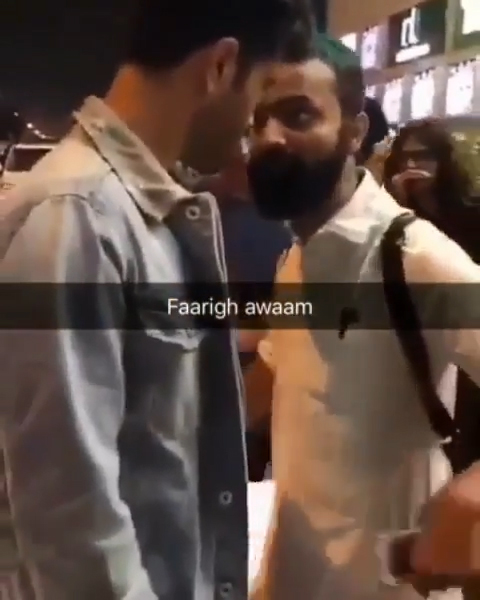 Here's the full video of Feroze Khan's encounter with the protestors at the Nueplex Cinema
The protestors have been going on about it. It's Karachi now and it may be other cities of Pakistan as well as the movie continues to be released in other parts of the country.
What do you guys think about it?