Off and on, we hear stories of how the drivers of cab services harass women passengers. If not harass, they share behavioral patterns which lead to something unethical, if not reported. While it is true that the cab services provide ease and comfort to people, there are rotten tomatoes in every farm and perhaps such cases tamper the image on the whole.
Similar to this is what a female passenger faced a few days ago. The only difference is that she was a driver of her own vehicle and was harassed by men who were driving another car.
Note: The victim did not want to share her name as she is still in shock and does not want to risk her position. This story is being shared as a caution for women who drive on their own.
Here's how the victim narrated the story:
"Long post ?

This happened on the 26th of May when I was coming back home from DHA's TCS office.

I was driving back home in my car and I was alone when a Sand Beige car cut my way like it was a fast & furious movie. At first, I thought maybe this car has to turn somewhere but sooner I realized that the case is different. There were 3 men in this car who did a HIGH FIVE when they stopped their car in front of mine in a slanted way. They kept their car like that for half a minute.

I was taken aback how they were laughing and doing a HIGH FIVE each time they stopped my car. I ignored them and tried to change my lane but they didn't let me change my lane. They kept doing this for the next half an hour and I kept ignoring. The distance to my home which is usually covered in 6-7 mins was covered in half an hour.

Not once did I look towards them because I knew they had planned to harass me. They kept laughing. They kept looking towards me to see how I react. Honestly, I felt HELPLESS because I couldn't overtake them. Long story short, these people harassed me to the point that I met a terrible accident because of them and I was injured. Blood coming from my mouth. My teeth loosened. They stopped their car again this time after accident and the man sitting in back seat took his head out of the car and laughed (Showing me that they have won). They immediately flew the scene.

What was my fault?

I was a woman driving alone.

Little did they know that my family can turn the world upside down to find them, which they did.

I was taken to National Hospital for treatment. (I'm recovering)

After almost 3 days of extensive search, CCTV footages, with the help of Police and other authorities they have been traced.

Turns out this was UBER's CAR with UBER STAFF & DRIVER. I wonder if they can do this to a woman sitting in another car what can they do to the woman passengers sitting with them.

Right now these 3 men are sitting behind bars telling the police that I'm like a sister to them and the police is taking good care of them.

JUSTICE IS SERVED!"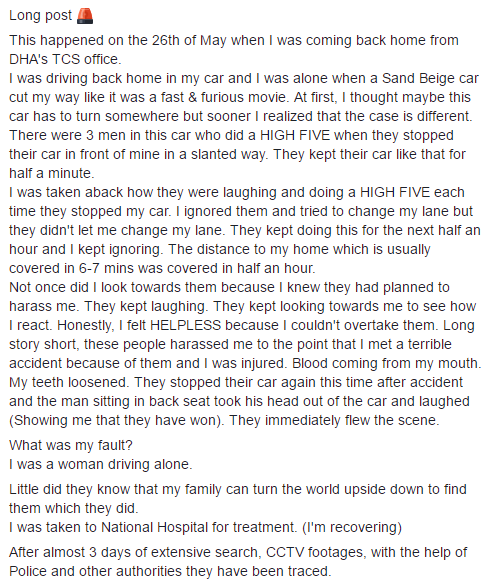 While it is extremely traumatizing seeing what this young lady had to go through, one can pass a sigh of relief on how the harassers were taken into custody.
To all the lady drivers out there, please stay safe.