Are you tired of using your current messaging application? Do you want to change your application in a way that lets you use more features, and offers a higher probability of security of your data? Then you should instantly switch to LINE messenger application, available on iOS and Android. Released only about four years ago, LINE messenger is a host to more than 600 million active users. LINE messenger is gaining pace with its features and services and it is definitely going to be the new deal in town!
Apart from trying it out by yourselves, here is the information we have gathered for you about LINE messenger:
Group Video Chats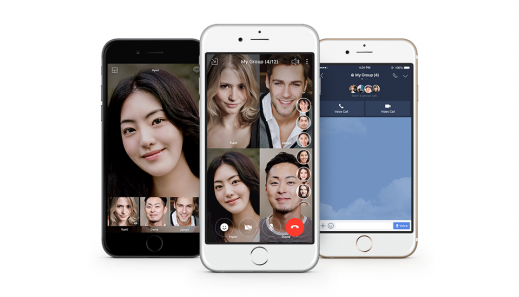 This is the craziest feature any of the messaging apps has released so far! One-on-one video call days are over! You can group video call now to talk and see all your friends' faces at the same time. So, it's not just voice, you can also see pretty faces of your friends or loved ones at the same time. Just like good old days, when you all used to sit together and have a discussion over a cup of coffee. It's more like having a virtual get together or reunion. How cool is that! On top of that, you can add filters to add that zing to it!
Stickers!
Even though WhatsApp is now owned by Facebook, it still does not have sticker emoticons in its messenger. If you are a fan of expressing yourself through stickers, then you will surely love LINE messenger! It has a sticker for practically every possible emotion!
Absolutely Free!
Unlike WhatsApp, who has now started charging on annual basis, LINE messenger is absolutely free. No matter if it's video call or voice call, its features are free to use.
Conserve Your Bandwidth!
For people who use limited internet data plans, they should surely try LINE messenger as it offers compression of data being sent. Non-Wi-Fi users can switch the quality of media files being sent out if need be.
Timed Messages!
Just like Snapchat, you can set your messages to automatically disappear after a certain time. That time can be as low as 2 seconds, and as long as 2 weeks. LINE's server will start to delete the messages from its servers. This feature enables you to send messages containing sensitive messages or images that you only want the recipient to see, without any hesitation. These one-on-one hidden conversations are a solution to one of your major your privacy concerns!
Group Calls!
The usual group chats are now things of the past when you have an application that provides you a group call feature. Now you can call your whole gang by calling them using your group chat! The group call feature is not the only one worth mentioning. The fact that you can text and talk with up to 200 people on a messenger group, at the same time, sets LINE messenger apart from the rest!
Although there are many other applications that can be used to send messages and share media, LINE messenger has an edge over most of them. It's in competition with WhatsApp, and looking at how fast its features are raining down, it might just have surpassed it as well! So, download the app yourself and let us know how you found it to be!