Let's just be candid! A girl always wants to be unique on her big day, and so she plans days ahead of her wedding only to become yet another 'same bride'. That's exactly what stylist Wazhma Awan hated ending up to be. And, then she turned herself into a wild masterpiece.
Instagram went crazy when famous photographers Natasha Zubair and Maham Iqbal Bosan posted Awan's wedding pictures. Everyone had one question then. Who is she?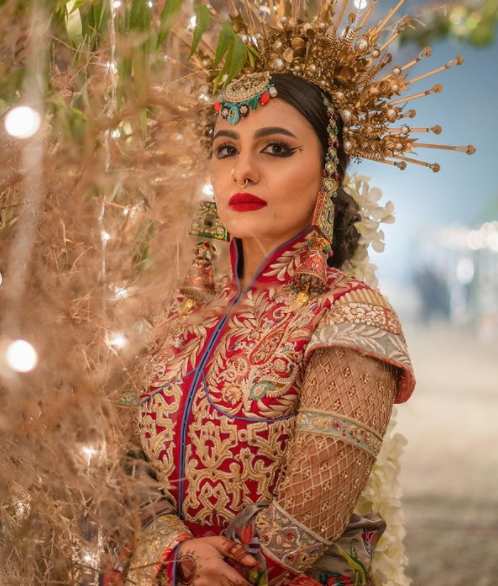 Awan is a stylist, traveler, and makeup addict. She recently spoke to Images with the details of her wedding outfits.
Awan wore an old House of Kamiar Rokni outfit and helped it with a golden crown from an Etsy shop in the Czech Republic. She made her jewelry and a trail of artificial flowers herself.
She wanted an outfit that had elements from different cultures. "I was looking at brides all over Asia and was drawn to a more tribal, nomadic style," Awan told Images.
Finally, she settled on a Kamiar Rokni piece from an older collection for her mehndi outfit. "The jacket had elements of Chinese culture in it with a desi vibe," she explained.
Meanwhile, the teeka she wore with the crown she got made herself.
"I didn't want a matha patti or a dupatta," she says. Instead, she wanted a flower veil.
"It was made with fabric flowers because real flowers would have broken and fallen off."
According to Awan, the flower veil looked gorgeous but it was super heavy that she could barely walk.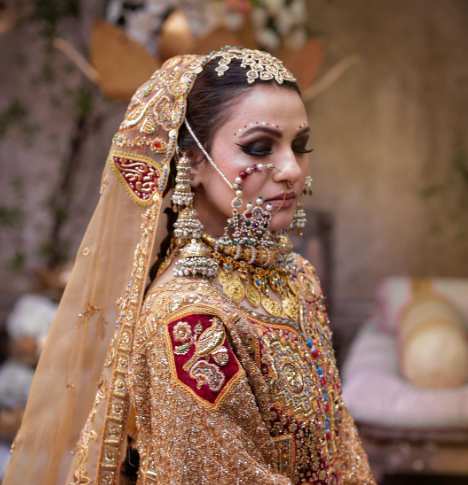 "I had my husband and brother helping me with one holding my lehenga and the other holding the trail and later my cousin carried it for me around the venue," Awan added.
You have got to see Awan's signature eyeliner
Ikram Gohar did Awan's makeup but the eyeliner was all hers. The eyeliner "has to be like this. You could call this style of eyeliner her signature look. Exaggerated or toned down, it has to be there."
On her nikkah, Awab wore an all-gold outfit. Her jewelry was similar to what Bengali brides wear.
Awan is from Balochistan but her parents are Punjabi and Pathan and she has always mixed all three elements in her style.
"In really old pictures of my mom or dadi they had this kind of eyeliner," she explained.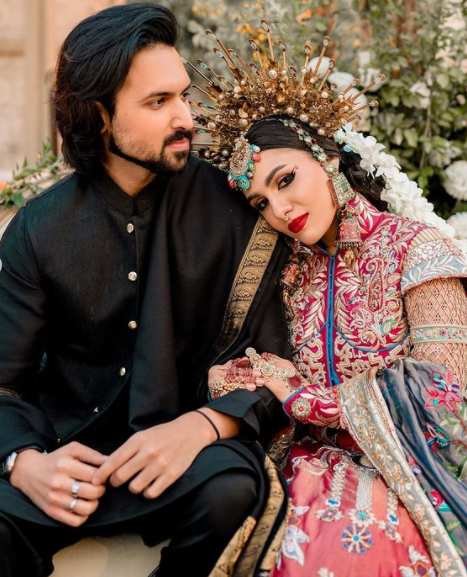 "I have been to so many weddings, and weddings are so boring, that I wanted to make sure that if everyone is coming all the way for my wedding, they should enjoy it."
"I see brides wearing all sorts of designers and all of them look the same," Awan said. They look a bit like photocopies, she ventures. "But it's everyone's own special day and maybe everyone is not like me."
Last year, we also saw a 'dabangg' Pakistani bride doing aerial firing at her wedding. Though it was a bit crazy! However, we fully support that brides must enjoy their big day.
Story Cedits. Dawn Images
What do you think of this story? Let us know in the comments section below.