Federal Minister for Science and Technology Fawad Chaudhry has clarified that PML-N leader Ayaz Sadiq's controversial comment had nothing to do with Pakistan's Army Chief General Qamar Javed Bajwa. Moreover, the retaliation that followed 26th February's attack was Pakistan's right.
Speaking to an Indian channel, Chaudhry said Pakistan does not condone terrorism. He added again that his remarks on the Pulwama attack had been misinterpreted.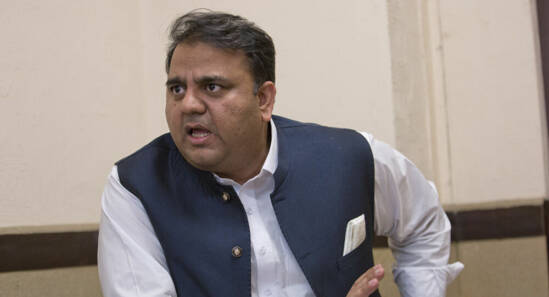 "Whoever knows me, in fact, many people in Hindustan follow me. And they know what my stance is on terrorism and extremism. As well as my stance on Indo-Pak," Chaudhry told an Indian anchor.
"So whoever knows me, they know that I did not support any terrorist incident. I never have and I never will in the future. As we talk about 26th February- how India invaded Pakistan's air space, and its airplane came to Balakot. The retaliation that came after it was Pakistan's right. And if Hindustan does it again, we will again beat you in your house."
Chaudhry's recent reference to the Pulwama attack was construed by the Indian media. They interpreted it as a 'sensational admission' of Pakistan's alleged involvement in it.
'Humne Hindustan ko ghuss kay mara hai,' the minister says in the National Assembly
While referring to the Pakistan Air Force's response to India's violation of its airspace on February 26 last year, the minister said "Humne Hindustan ko ghuss kay mara hai (We struck India in their home)," in the National Assembly.
"Our success in Pulwama is the success of this nation under (Prime Minister) Imran Khan's leadership," the minister said earlier.
The other lawmakers sought for the minister to explain his words. Chaudhry said, "The way we hit India inside their territory after the Pulwama incident…India's own media and political leadership are embarrassed by that."
Moreover, the minister's remarks came while he was responding to former speaker Sadiq. He had caused a political storm by suggesting a day earlier in the parliament that the PTI government had released Indian pilot Wing Commander Abhinandan Varthaman in capitulation, fearing an imminent attack from India.
However, he had stressed that only a part of his speech was being used to misinterpret his remarks. Indian Prime Minister Modi too alluded to his statement. He mistook it as being a 'confession' by Pakistan of its involvement in the Pulwama attack.
Back in February 2019, the Pakistan Air Force (PAF) had shot down IAF Wing Commander Abhinandan's MiG-21 plane in an aerial dogfight over Azad Jammu and Kashmir.
What do you think of this story? Let us know in the comments section below.