Early in the morning around 5:00 am, with no number plate vehicles captivate the Pakistan Tehreek-e-Insaf leader Fawad Chaudhry arrested and took him to Islamabad.
That's the twist in the plot because Lahore High Court has issued an order to present him at the court and he's been in Islamabad after obtaining his transitory remand from a local court.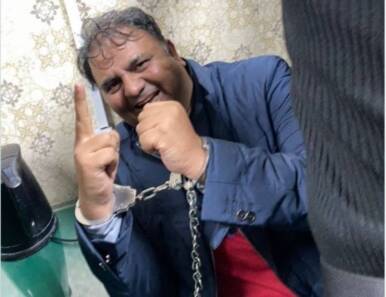 But what on earth made the suspicious vehicles come in the wee hours to arrest the former federal minister?
The order came from the Election Commission of Pakistan's (ECP) complaint and it was not shocking to him.
Fawad Chaudhry Arrested From His Residence
He condemned the government for talking about what he called a "conspiracy" with the electoral body to arrest PTI Chairman Imran Khan.
FIR was registered in the Kohsar police station against Fawad on the complaint of Election Commission of Pakistan (ECP) Secretary Umar Hameed for "inciting violence against a constitutional institution".
As per reports, Fawad's transit remand was taken from Lahore and he will be transferred to Islamabad today.
The situation escalated because Fawad Chaudhry threatened the members of the Election Commission of Pakistan (ECP) and warned them that they would have to "pay back".
Lahore Court Approves Fawad's Transitory Remand
Local Lahore court earlier approved the transitory remand of Fawad after he was presented before the court by Islamabad Police. On the approval, Fawad's lawyer argued that it was just a four hours travel from Lahore to Islamabad so there was no need for the transitory remand.
"They [police] should just present him [before a court] in Islamabad," said Fawad's lawyer.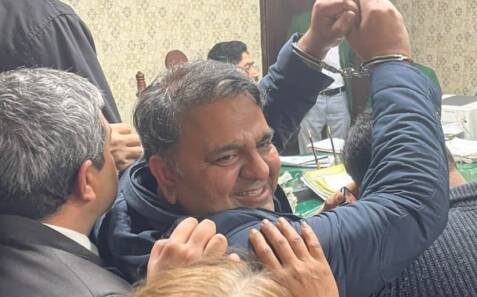 Fawad Chaudhry on the hand felt proud of the case and compared himself to none other than Nelson Mandela. Fawad said that he is "proud" of the case that has been registered against him.
"Nelson Mandela also faced a similar case. It is being said that I committed treason," he said.
It's the second main one of the significant members of PTI who was arrested. Last year, Shahbaz Gill was arrested and brutally tortured, but after a few months, he was released on bail.
What do you think of the story? Tell us in the comments section below.