In the best news of August 2020. A young Pakistani Martial Arts colt Fatima has done the unthinkable, the 7-year-old prodigy on 16th August broke an Indian woman's Guinness World Record.
Fatima Naseem, only 7-years-old, has managed to break Indian Shruti S's record. Breaks the record in double elbow strikes in 1 minute with 242 strikes. The record was being gatekeeped by the Guinness World Records.
After Fatima sent her Guinness World Record entry to the organization, she soon received a reply from them. The email reads:
"We are thrilled to inform you that your application for Most Full Contact Elbow Strikes in 1 minute using alternate elbows (female) has been successful and you are now the Guinness World Records Title Holder!"
Moreover, the Guinness World Records' website now officially has Fatima Naseem's name embedded, till someone breaks her record.
"The most full contact elbow strikes in one minute using alternate elbows (female) is 242, and was achieved by Fatima Naseem in Karachi, Sindh, Pakistan, on August 16, 2020," says the Guinness website.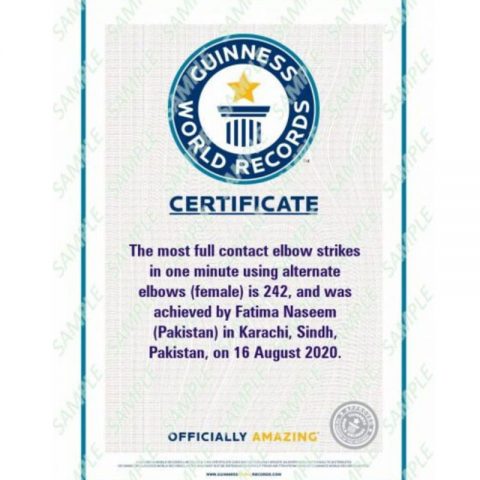 Pakistani Fatima become a martial prodigy and made a Guinness Record. Fatima's father is also a Martial Arts expert. Her father Muhammad Rashid holds the same record in the men's category of the competition.
The Guinness World Records further congratulated the father for involving his daughter in the activity as well.
Pakistan is super proud of Fatima Naseem and her achievement. More children need to take part in such extracurricular activities to take the country ahead on all formats and stages.
Previously, another Pakistani girl beat an Indian professor in the Guinness World Record for rearranging elements in the periodic chart.